REC.
Simplifying the Furniture Shopping Experience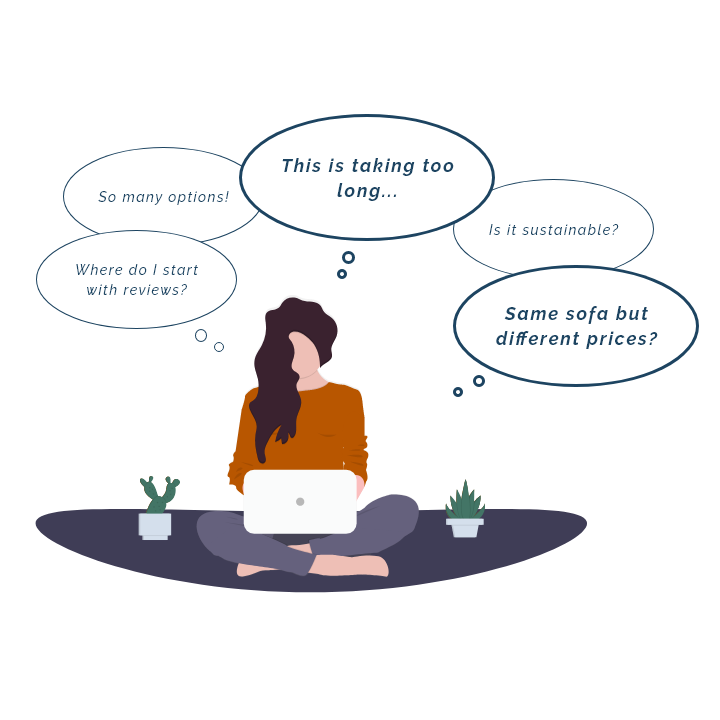 What's the Problem?
You just moved into your new space, and it doesn't feel like home yet. You sit in front of your computer, shopping for furniture to fill the space, Within a couple hours, you have 16 tabs opened with different options, and you can't make a decision.
With the amount of information online, it's more time-consuming to find the best deal before committing to a furniture purchase online. Research shows that homeowners and renters are spending more time figuring out if the furniture piece has good quality, a reasonable price, sustainable, and spatial fit.
With a smaller budget, people often find creative ways to upcycle their existing furniture. I find that most people don't know how and what tools they need to start.
How might we give consumers an efficient and engaging process to find furniture?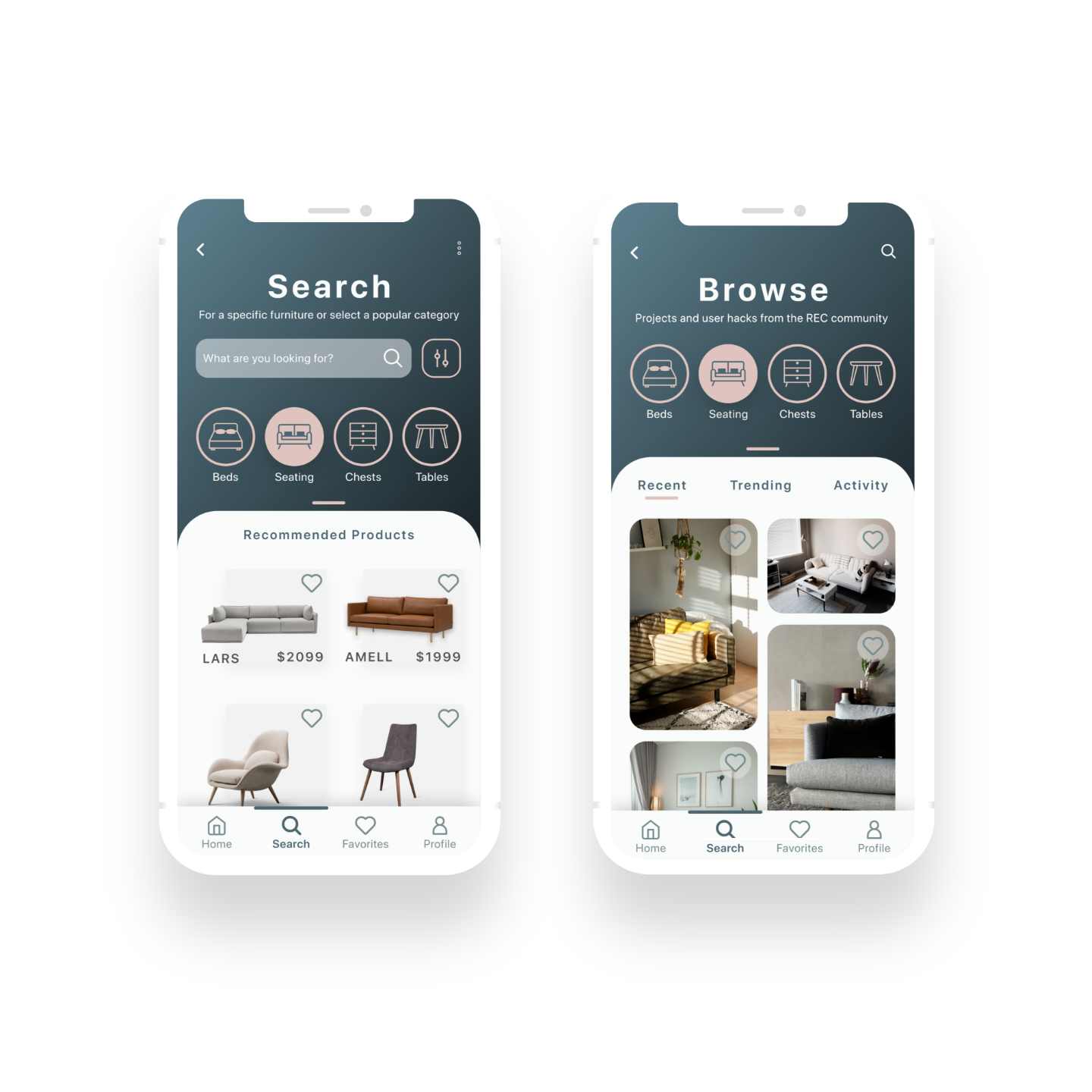 Potential Solutions & Goals
REC. is a mobile hub with a wide selection of furniture and décor, giving customers all relevant information to make a confident decision before committing to a purchase online. It's also a platform for the DIY community to share their repurposed furniture projects and inspire users to upgrade their furniture on a budget.
1. Explore More Products
Provide a wide selection of products from well-known brands and local small businesses.
2. Compare Prices
Present product specifications and reviews in an intuitive layout that is customizable and easy to scan.
3. Get Inspired
Users can browse through numerous projects and see how other RECreators are "hacking" their furniture to give it new life.
4. Reclaim. Recreate.
Users can learn how to repurpose their furniture using sustainable materials in a budget-friendly process.
I worked as the solo Product Designer for 3 months and have been responsible for the complete end-to-end UX process. Given the creative freedom to tackle this challenge, I refined my design framework to deeply understand the user. My approach to this project is to research, synthesize, ideate, design, and validate a suitable solution for the current problem space.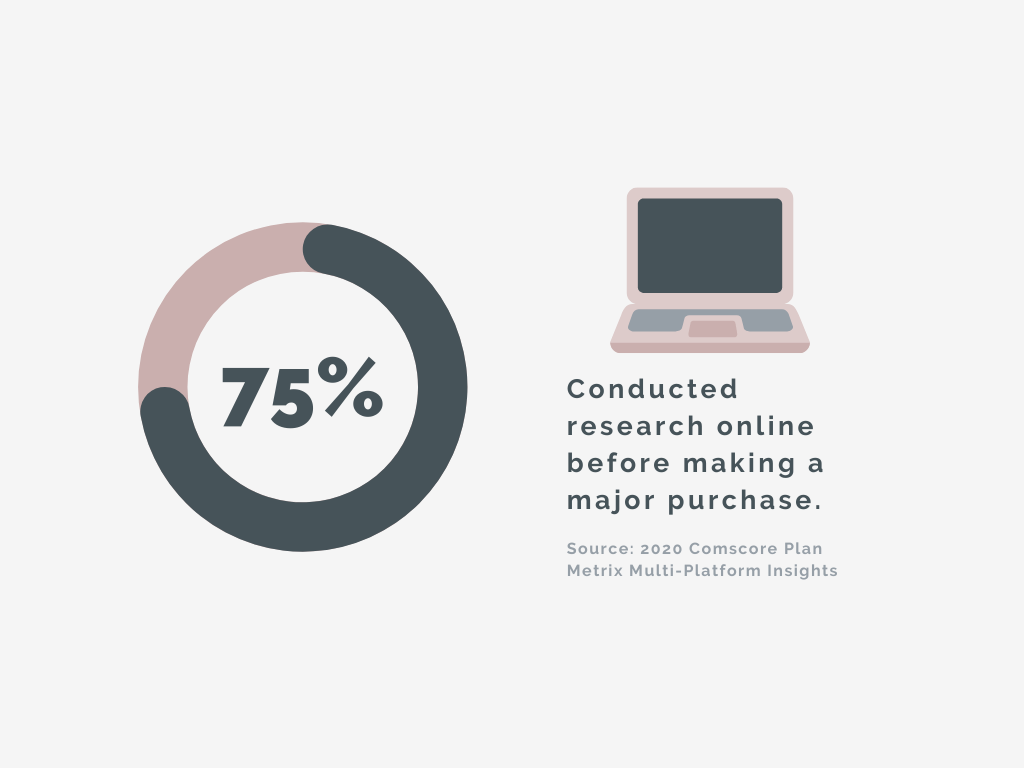 Secondary Research
To learn more about consumer behavior, I conducted secondary research specific to the home furnishings industry. In 2020, 75% of consumers conducted research online before making a major purchase - that's a 7% increase since 2019 (even with the pandemic!).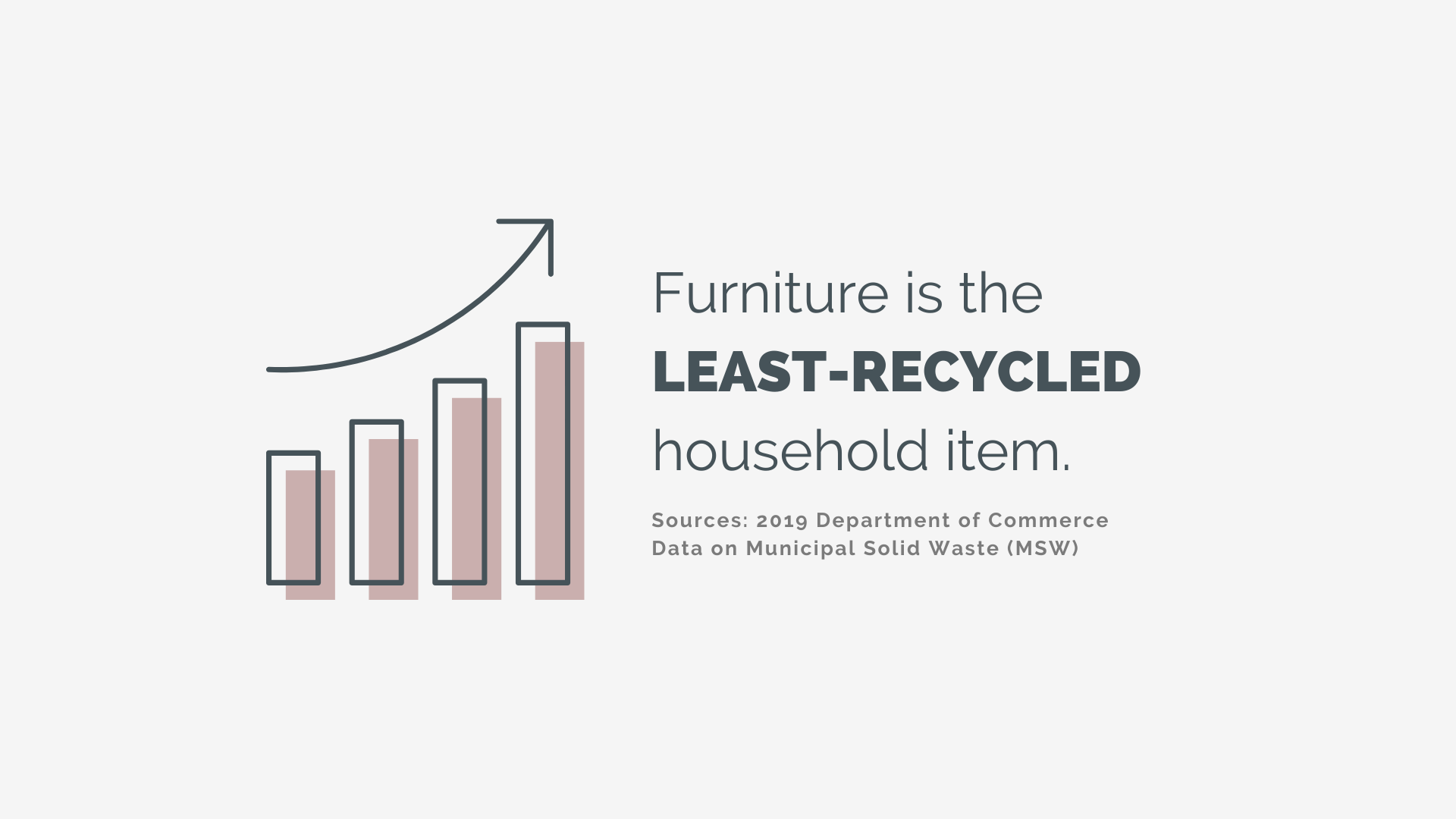 Recently, brands are more focused on sustainability and ethical practices. Since the 1960s, furniture is the least-recycled household item. It's also the 2nd largest portion of urban waste. Luckily, consumers are starting to make a conscious choice for their home. Types of chemicals used in fast-furniture not only affect the environment, but our bodies as well.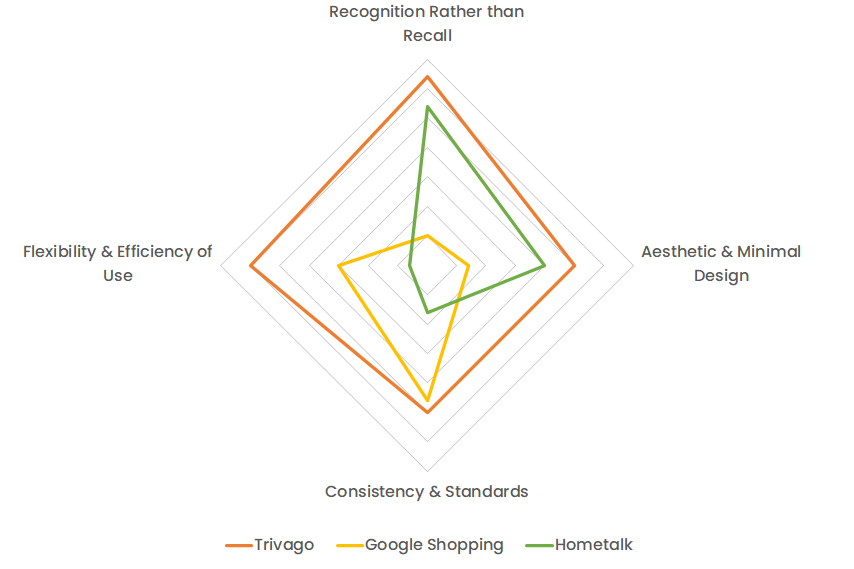 Competitor Analysis
Why isn't there something similar in the market? Even though there isn't a direct competitor, there are existing mobile apps on the market that have similar features to what my proposed solution will have. I picked two mobile apps that compare products, and one mobile app that curates home DIY projects. Then, I analyzed the competitors using the Heuristic Principle of UI/UX Design. This helped me understand why current solutions are NOT working.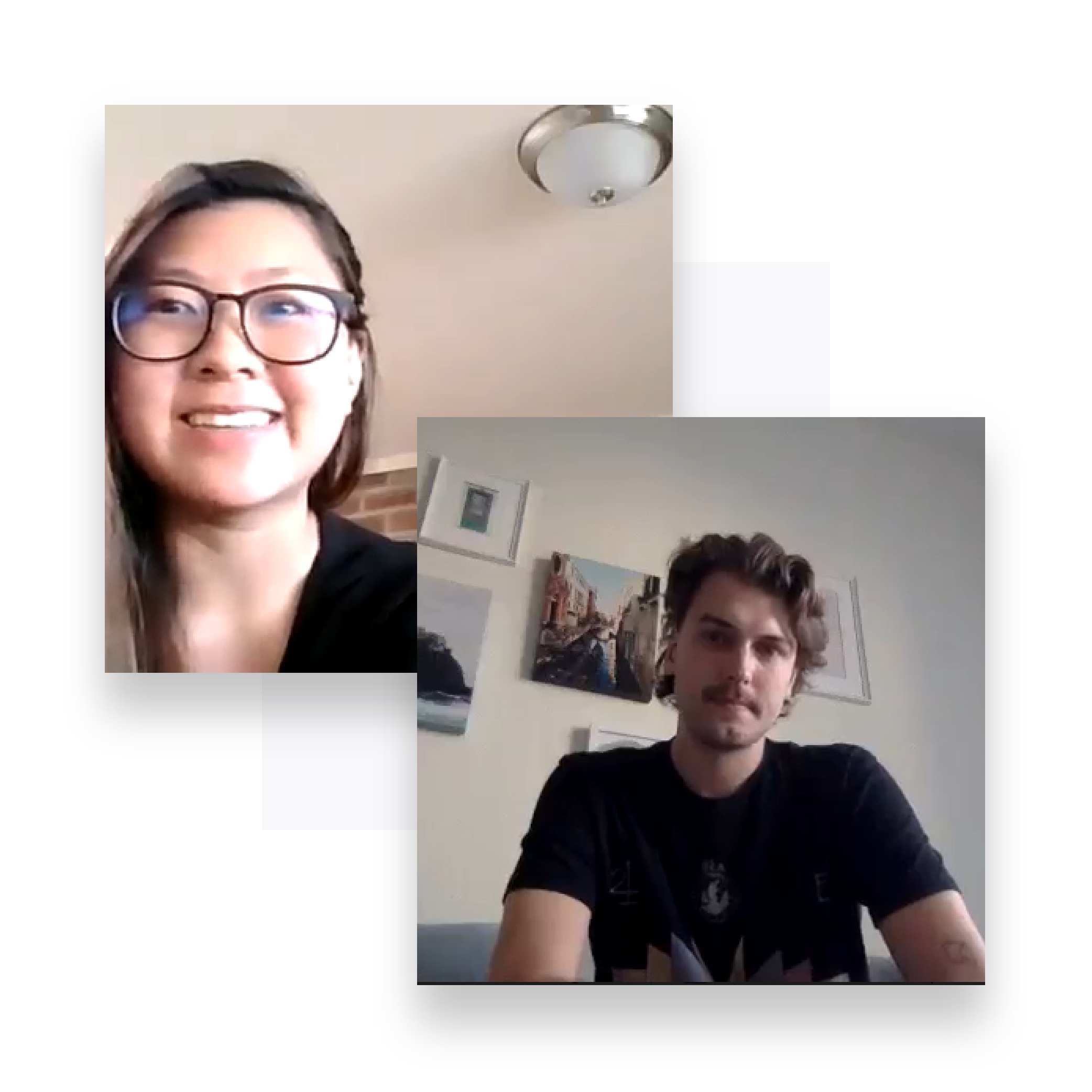 Interviews
I interviewed 11 users, homeowners or renters, who have made a furniture purchase in the past 5 years. Each interview was conducted remotely through video call or in-person, and lasted about 30 minutes. Here are my main findings: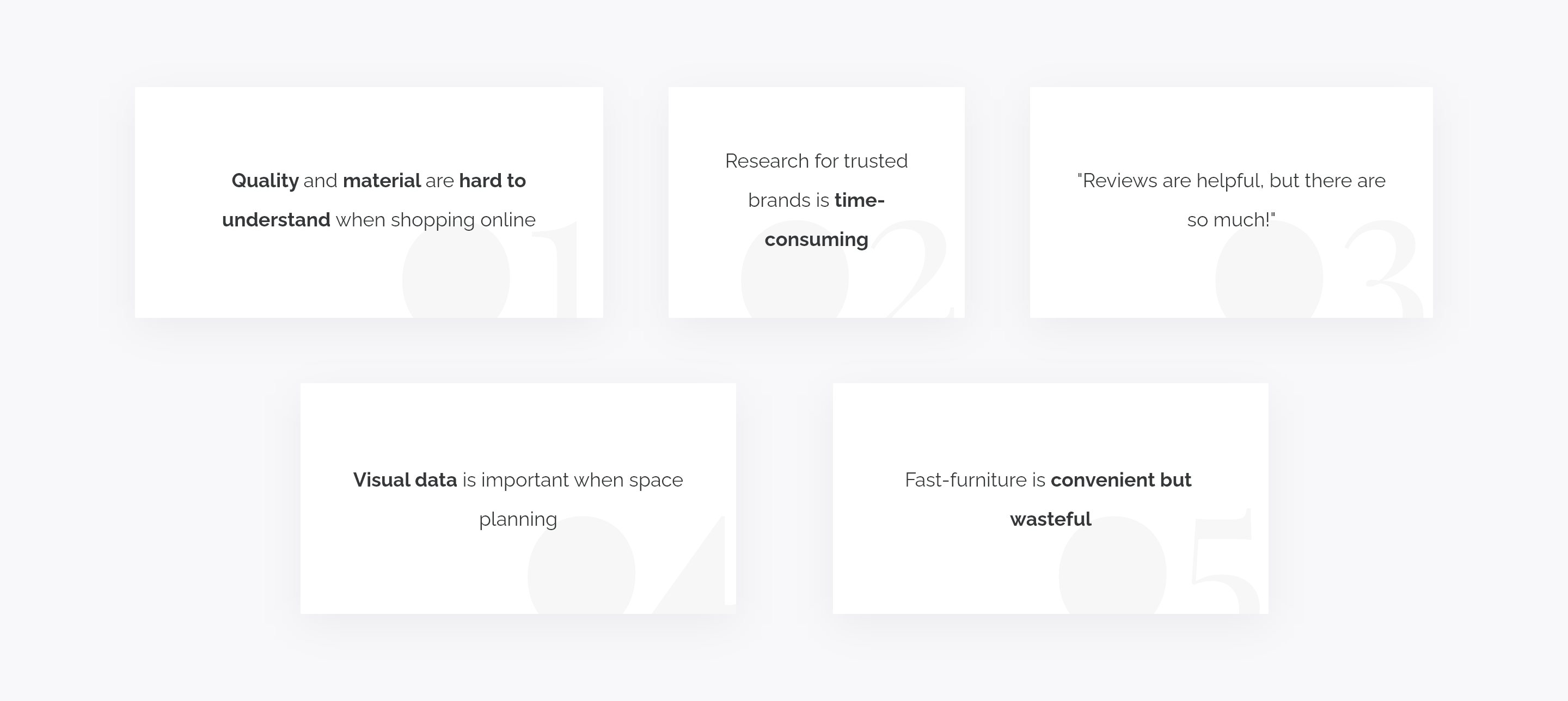 2. Synthesize & Analyze the Data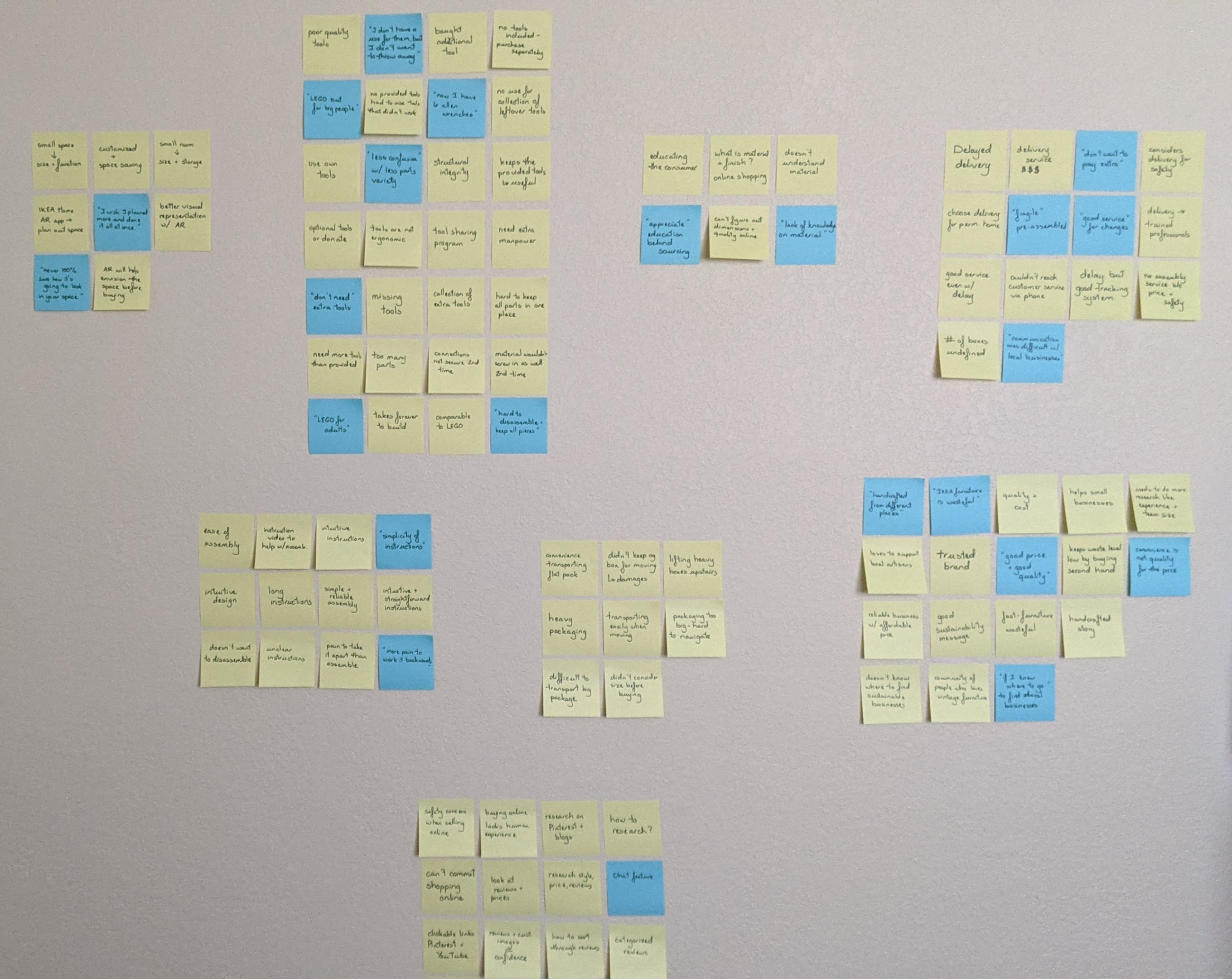 Affinity Map
From my interviews, I organized all my notes into an affinity map. This helped me identify patterns, for example, a major correlation between purchasing habits and sustainability.
Personas
Based on the interviews/user research, I created two personas. Each persona highlights their concerns, goals, and current channels when looking for furniture.
I often referred to them throughout the entire product development process to make sure I prioritize the users in my design decisions.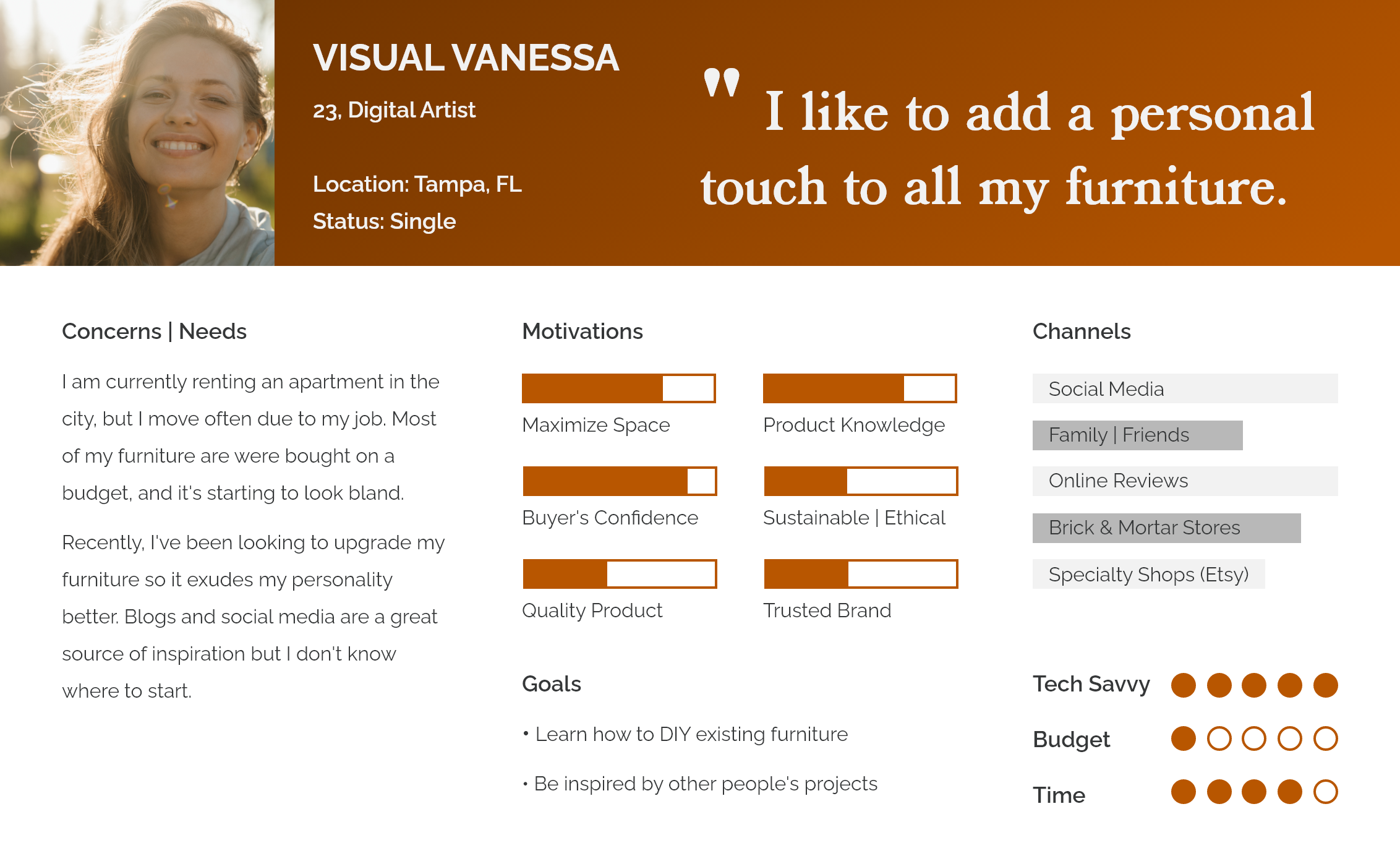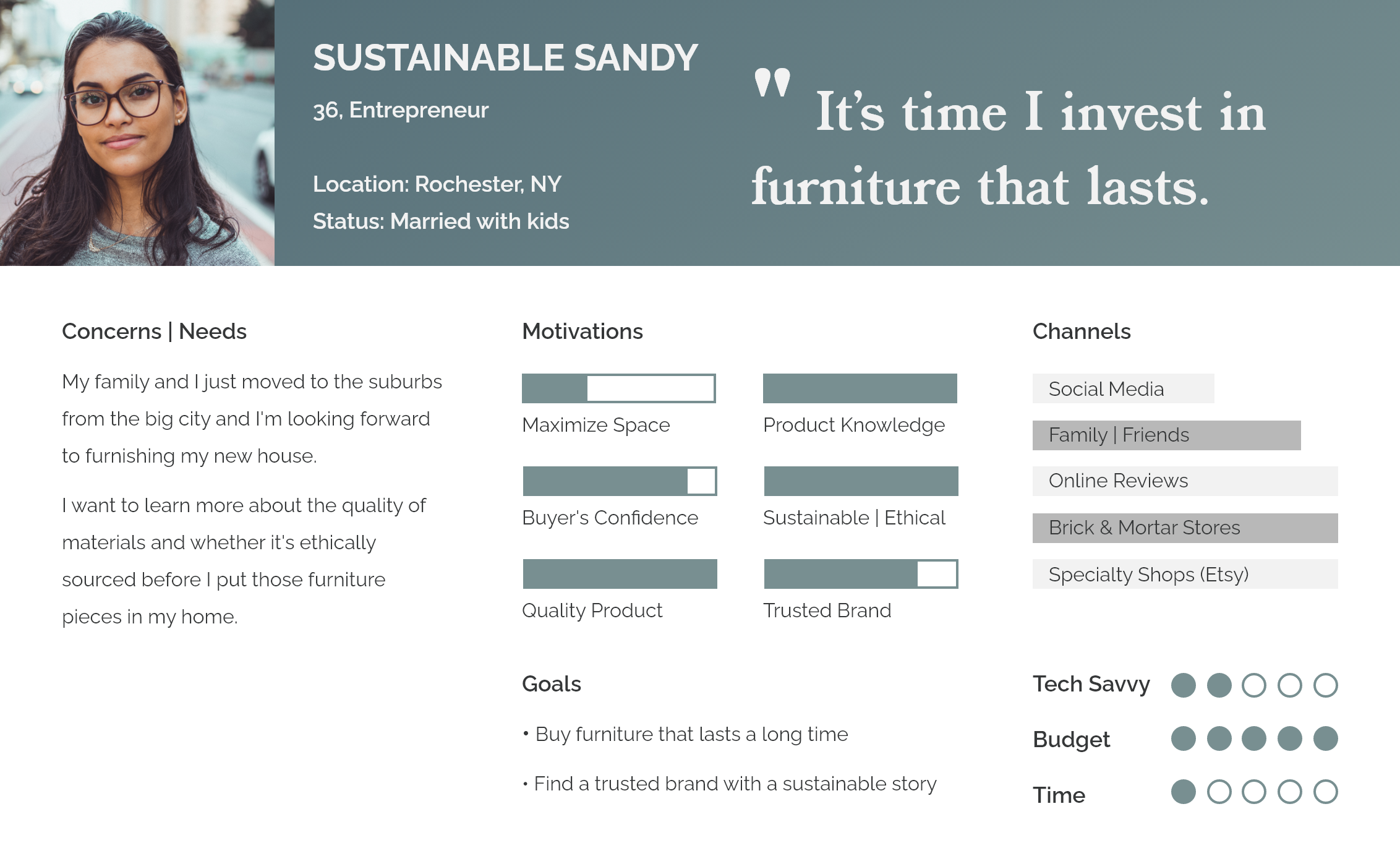 3. Organize Ideas into Direction
Early ideation phase pushed me to explore several ideas on how to solve this problem space; however, none of my solutions jumped out at me. I went back to my user insights and re-analyzed the data. I thought I needed to solve the problems the users said they had. Instead, I needed to identify and solve the problems the users didn't know they had.
A couple hours later, I had my epiphany.
I came to the conclusion of creating a platform to help users find the best furniture deals and discover sustainable ways to repurpose their existing furniture.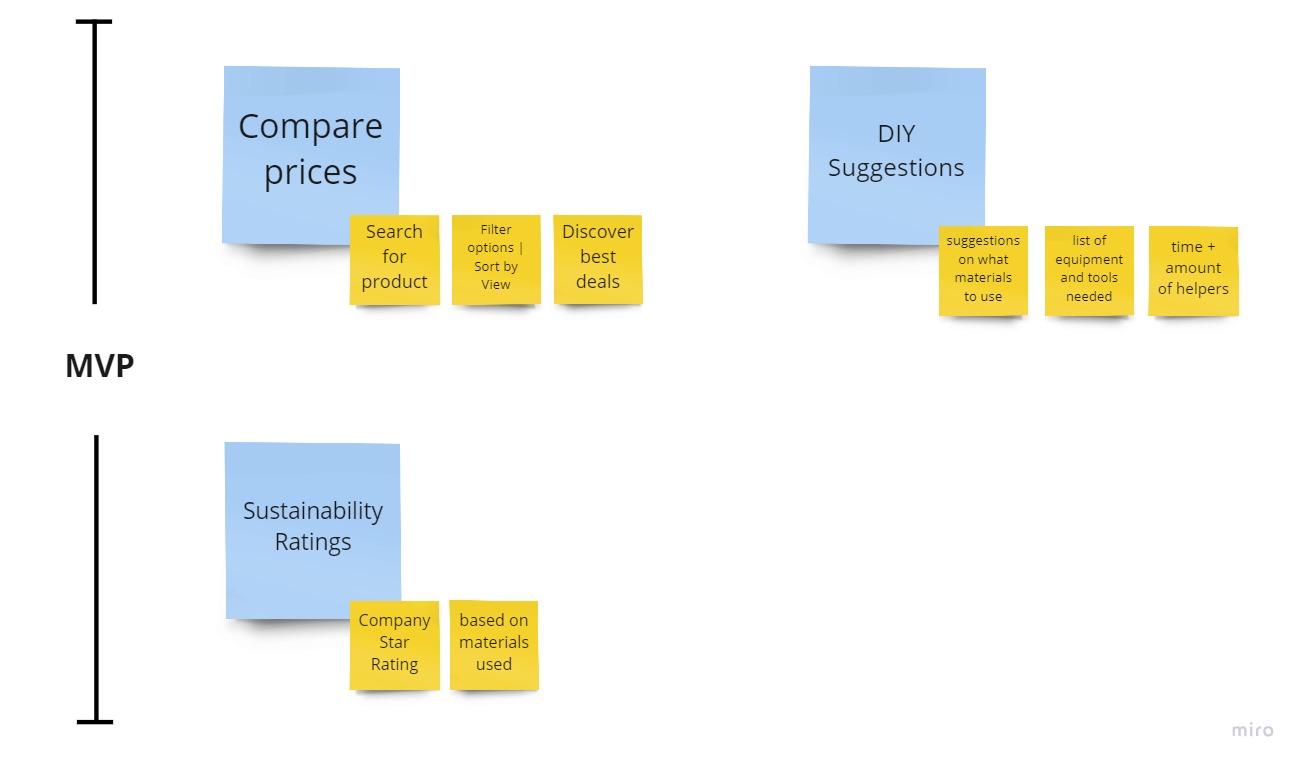 User Stories
I generated user stories to identify important features to include in a Minimum Viable Product (MVP) to meet the user's needs.
Compare prices & features on favorite products

Curated list of DIY projects with video tutorials

Sustainability rating

Sitemap
I organized my ideas and sorted the main features and functionalities through a sitemap. This was created to get a high-level overview of the screens and to visualize the navigation structure and hierarchy of the screens.
User Flows
I mapped out two user flows to illustrate the critical paths users will follow when using the app.
User A (left) wants to find inspiration to upcycle her furniture.

User B (right) wants to find quality furniture at a good deal.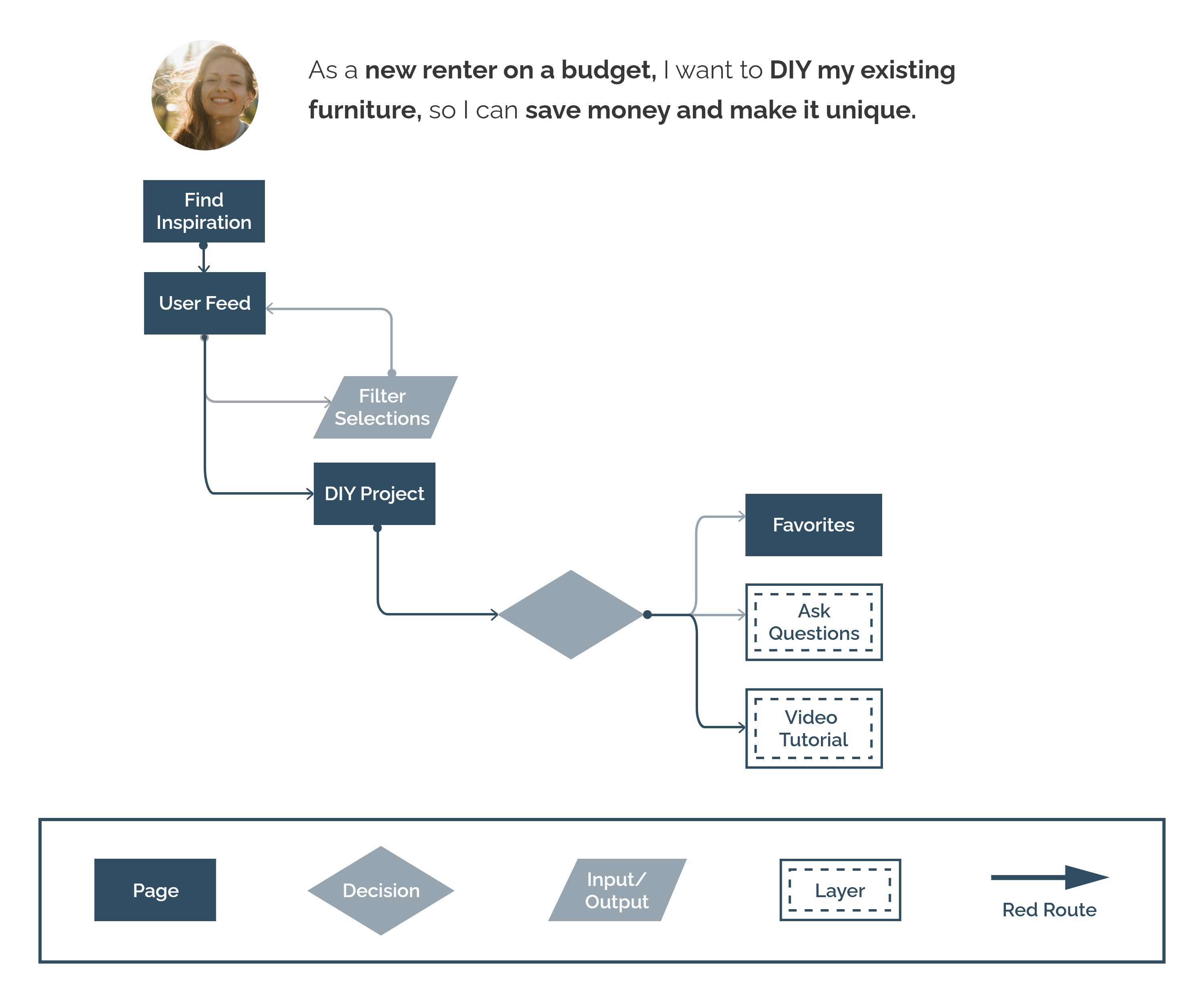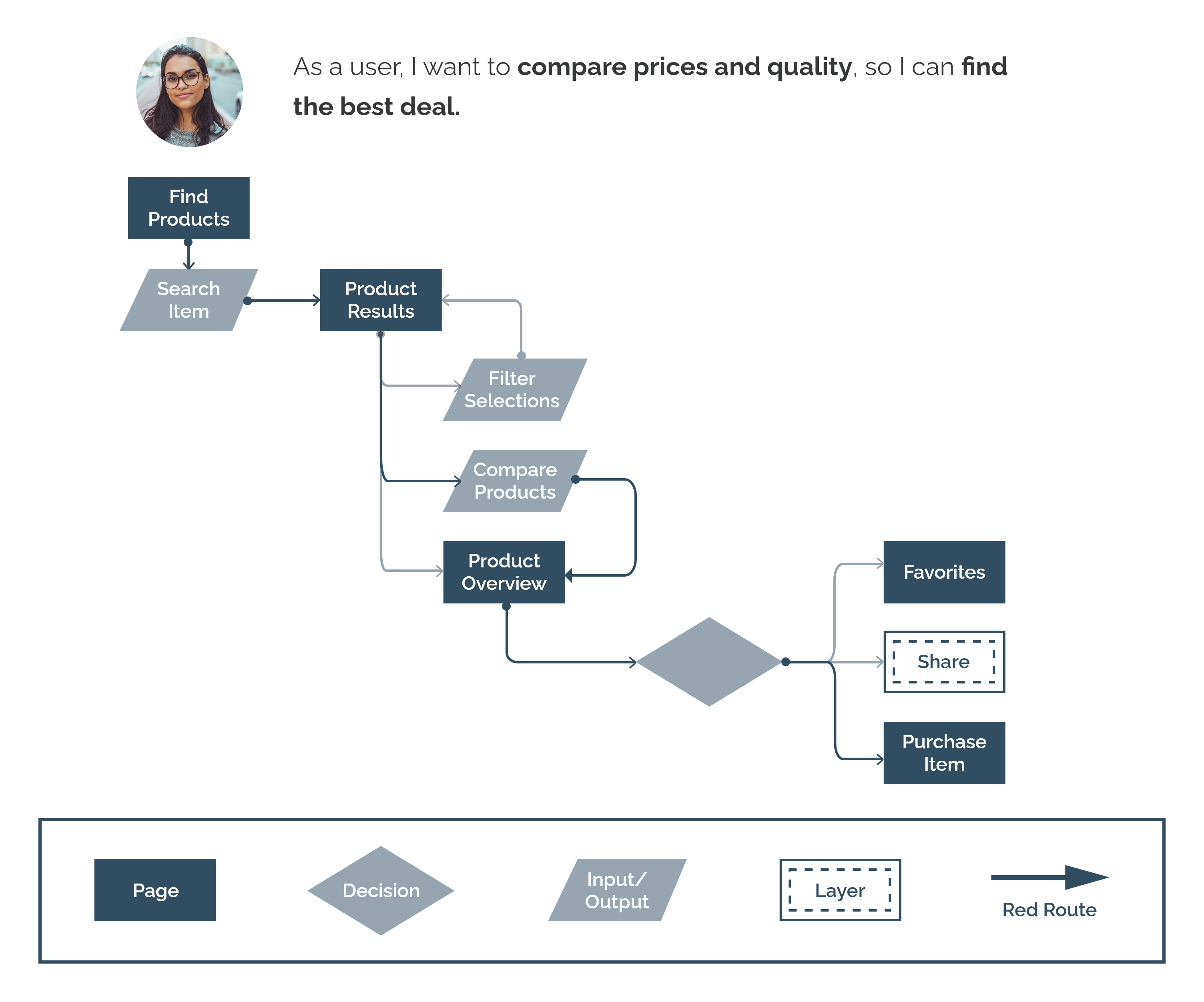 4. Turning Concepts into Designs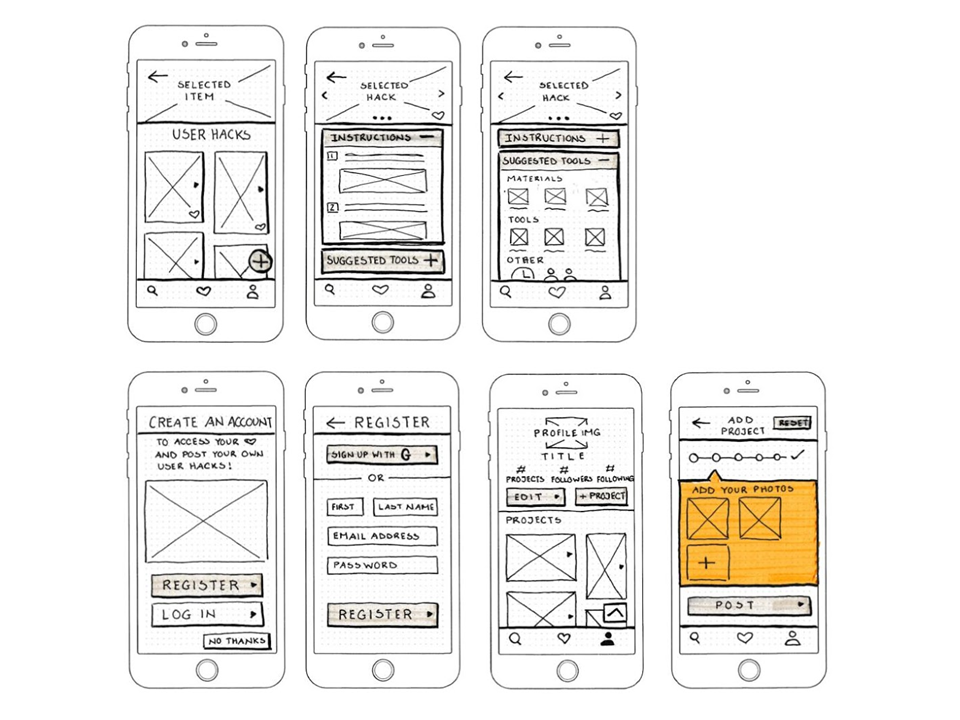 Sketching
With the information architecture laid out, I began to visualize my ideas with sketches.
Then, I utilized POP by Marvel to digitize my lo-fi sketches into a clickable prototype. Using the digital platform, I conducted five guerilla usability tests. Conducting early usability testing allowed me to identify glaring issues with navigation and hierarchy.
Wireframes
I incorporated my solutions to issues found in the guerilla usability tests through wireframes.
Changed the button label to "Recreate".

Give users the option to quickly opt out if they do not want to register

Refined the landing page to help users understand the features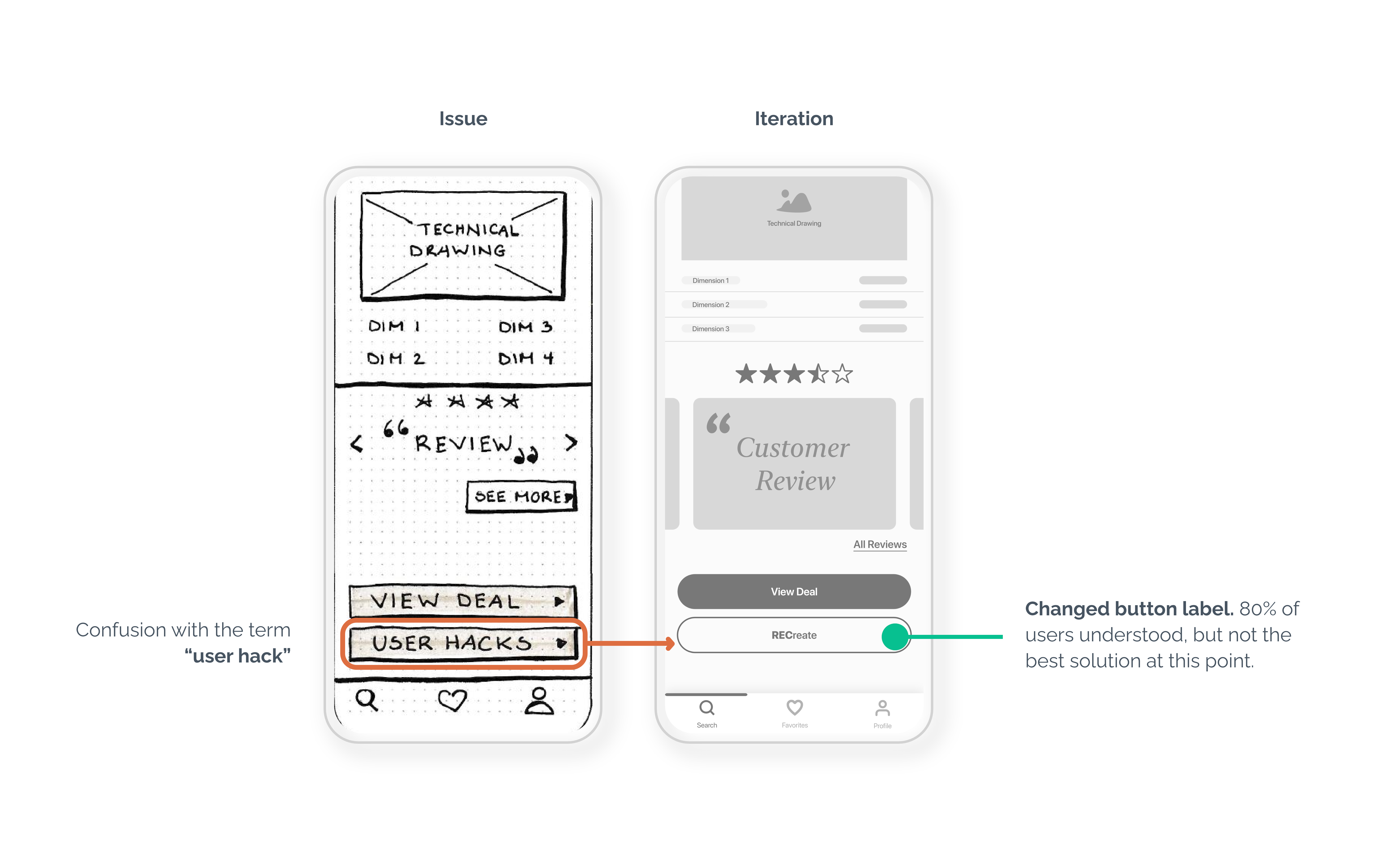 Branding & Visual Identity
As a brand, I needed to create a consistent visual identity and a strong brand platform. The style guide underwent many iterations to incorporate design principles and accessibility standards.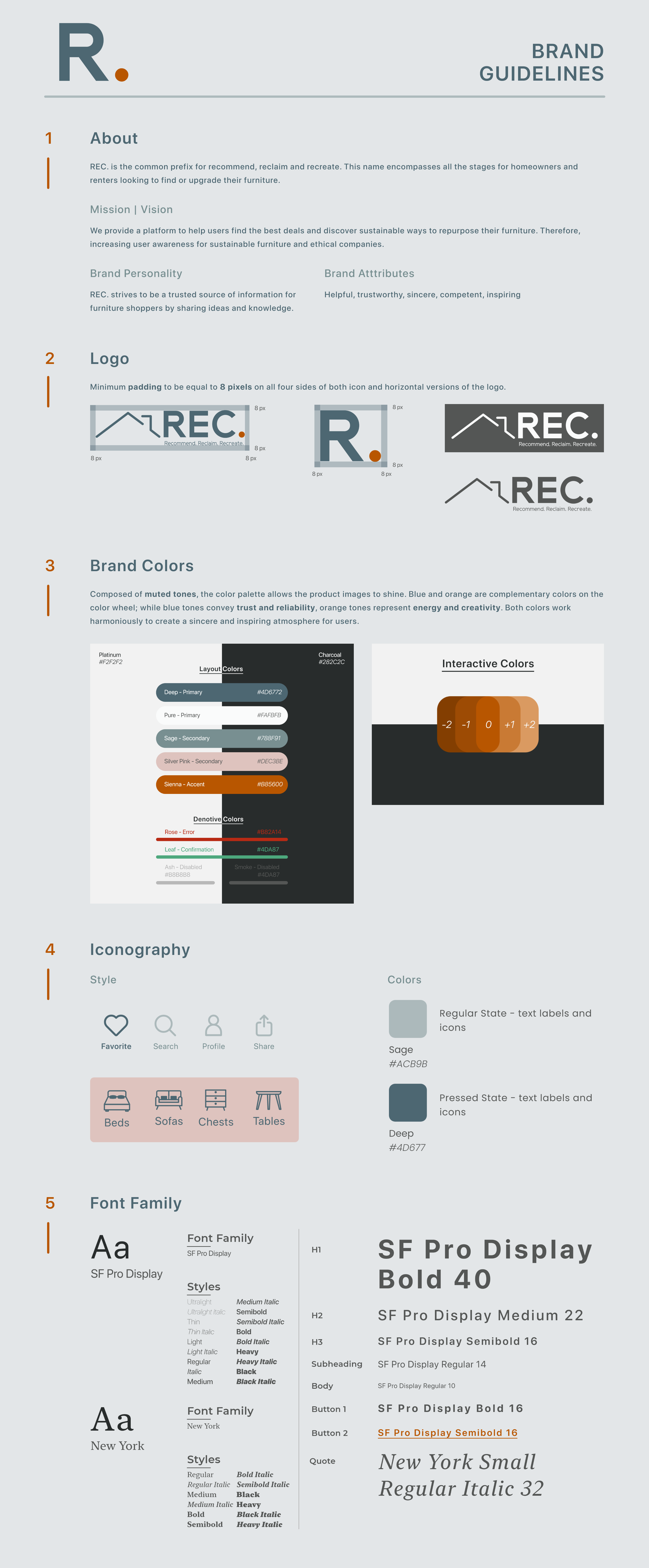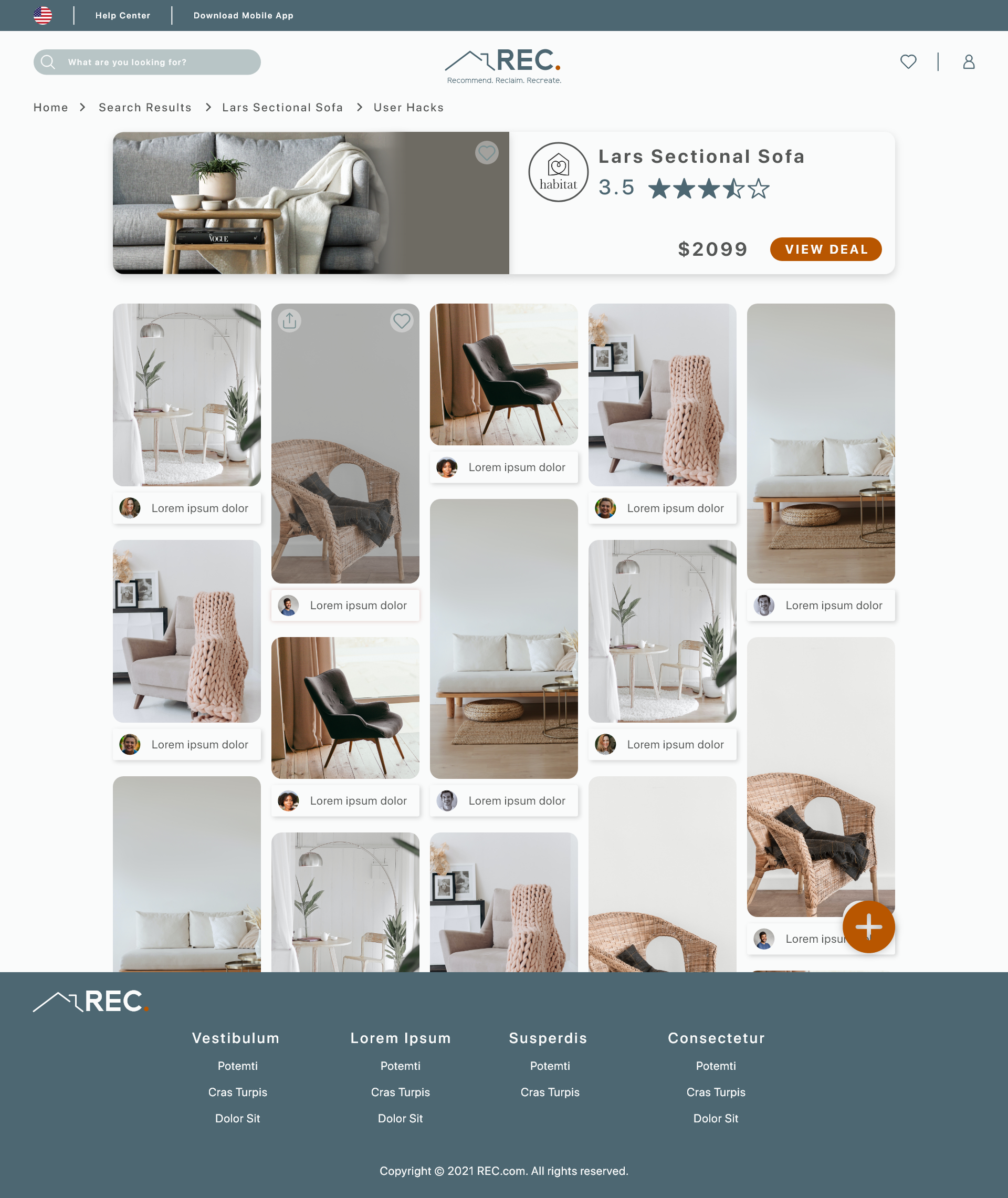 Interactive Prototype
After building my high-fidelity mockups in Adobe XD, I used InVision to digitize my prototype for testing. This level of prototype gives a more accurate feel of the brand and will provide better quality usability testing.
**This is the final version of the prototype.
2
Rounds of usability testing
12
Moderated tests conducted
93%
Increase in completion rate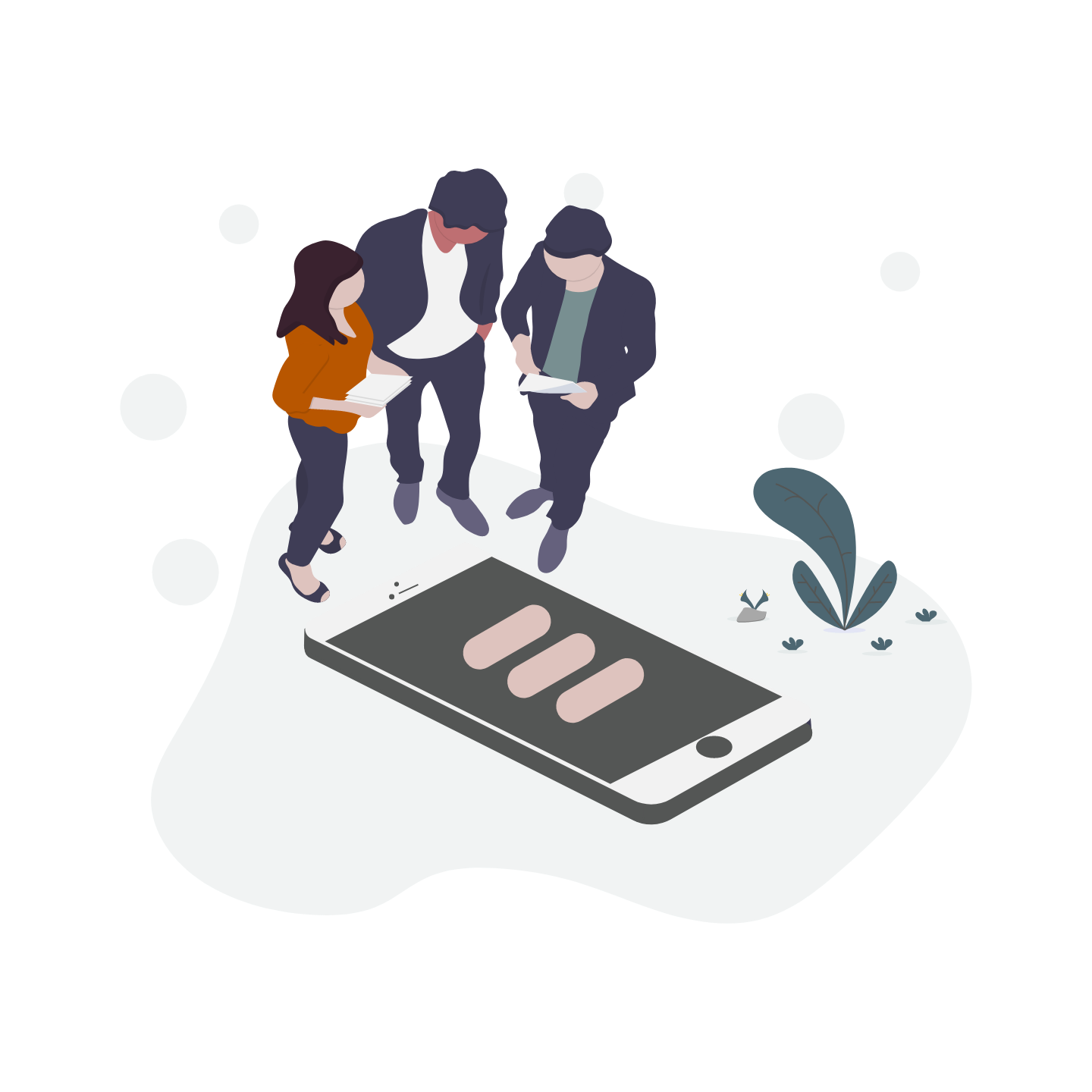 Usability Testing
Two rounds of moderated usability tests were conducted remotely with 12 participants total. The primary objectives were to assess challenges navigating the app and uncover any usability issues after iterations.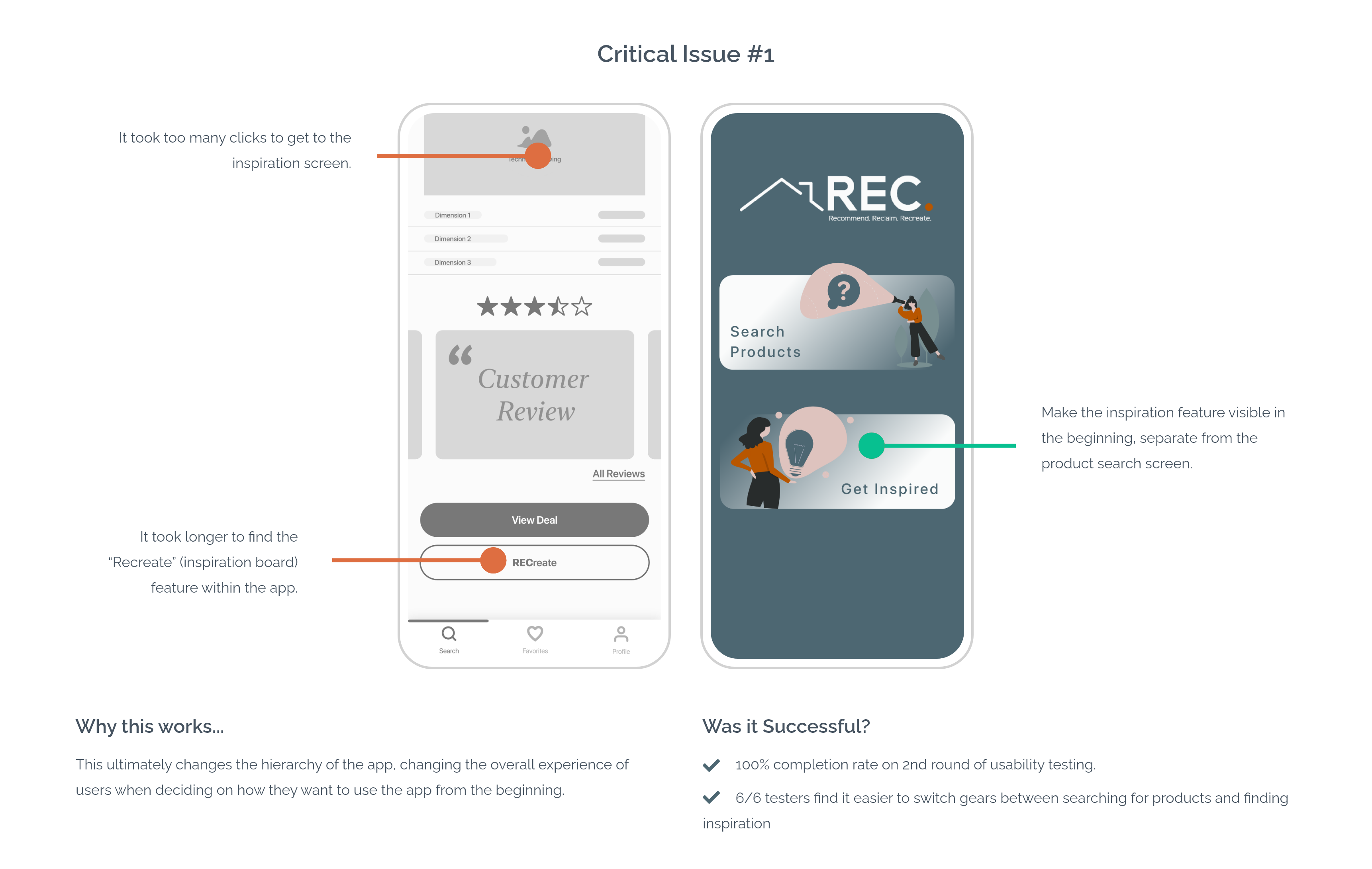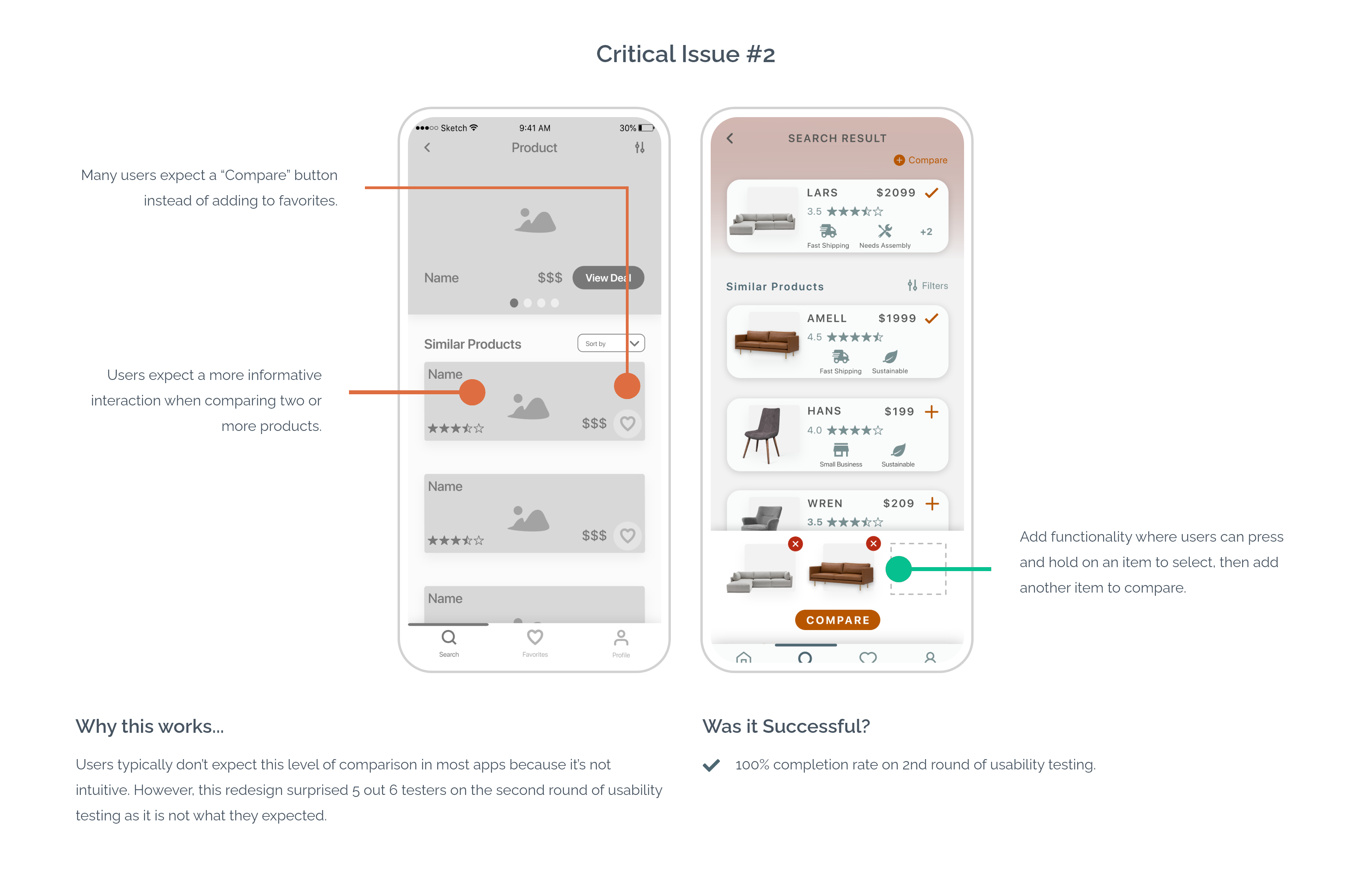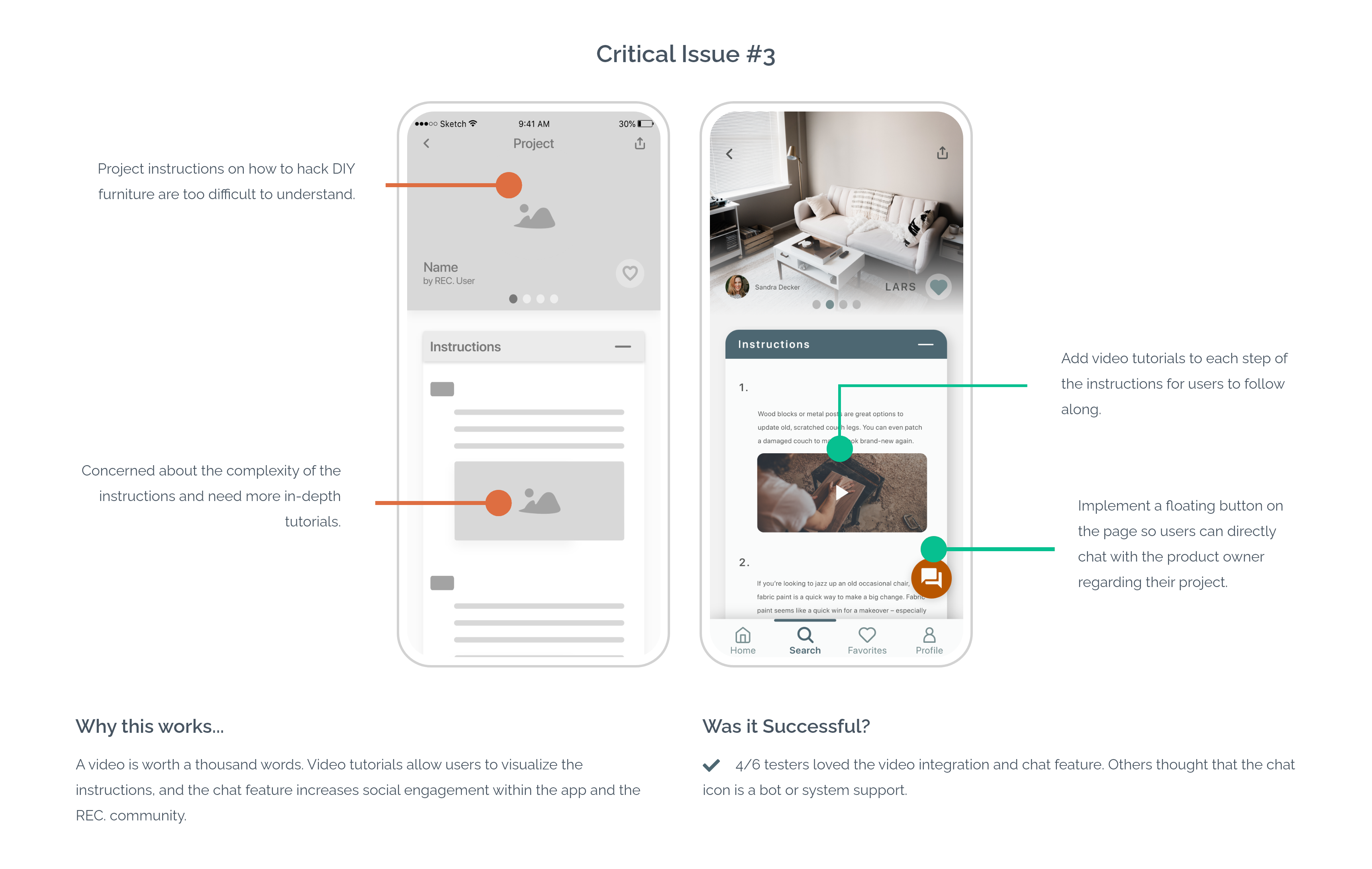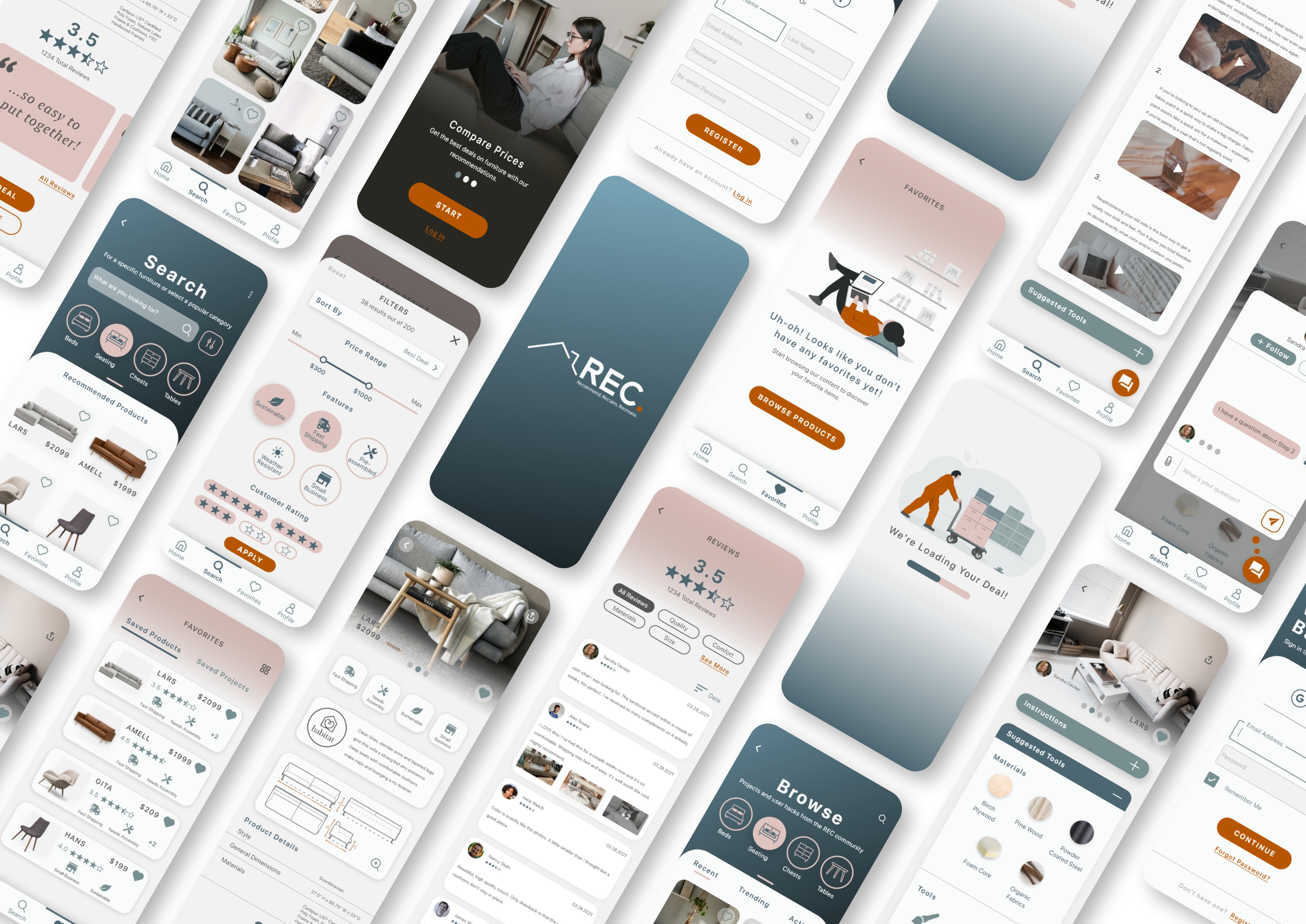 Increase traffic to lesser known businesses
by measuring the amount of clicks to external URL.
Retention rate doubled
as users created profiles to add their own DIY projects and build a community.
Percentage of visits increased
as the number of shares increased.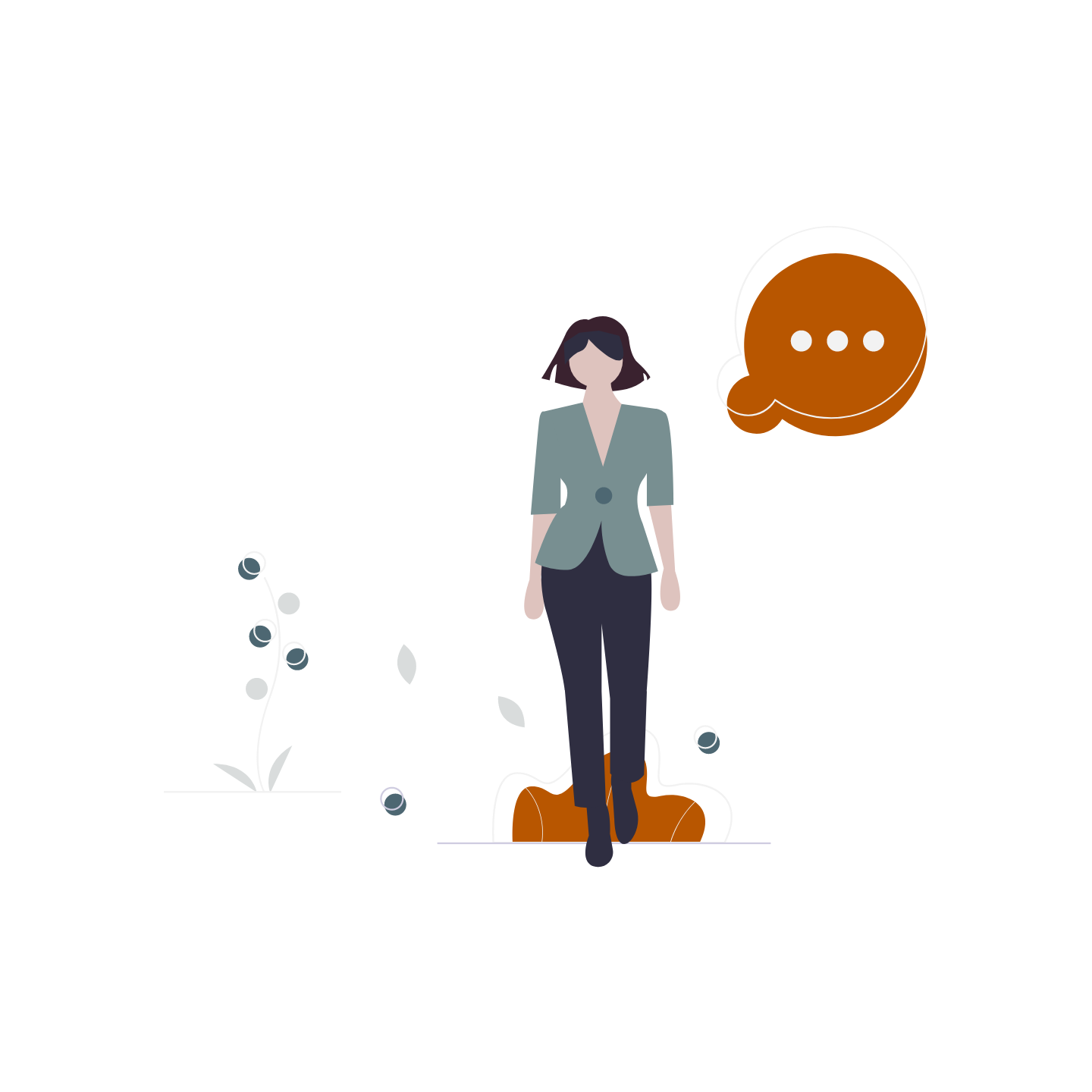 As a consumer, we innately seek the best deal on any product. In order to know when a product has reached its "purchasable" state, consumers must educate themselves on the product category. It's definitely time-consuming and takes effort to do all this research.
On a deeper level, REC. aims to help consumers discover equally affordable products from lesser known brands that are focused on sustainability and ethical efforts. The app will inspire consumers to upcycle their existing furniture so they can do their part in lowering urban waste.
I would like to develop this product further by incorporating in-app purchases. This suggestion was raised by multiple users during usability testing. Implementing this feature can potentially bring additional sales growth to the company and awareness to smaller business partnerships.