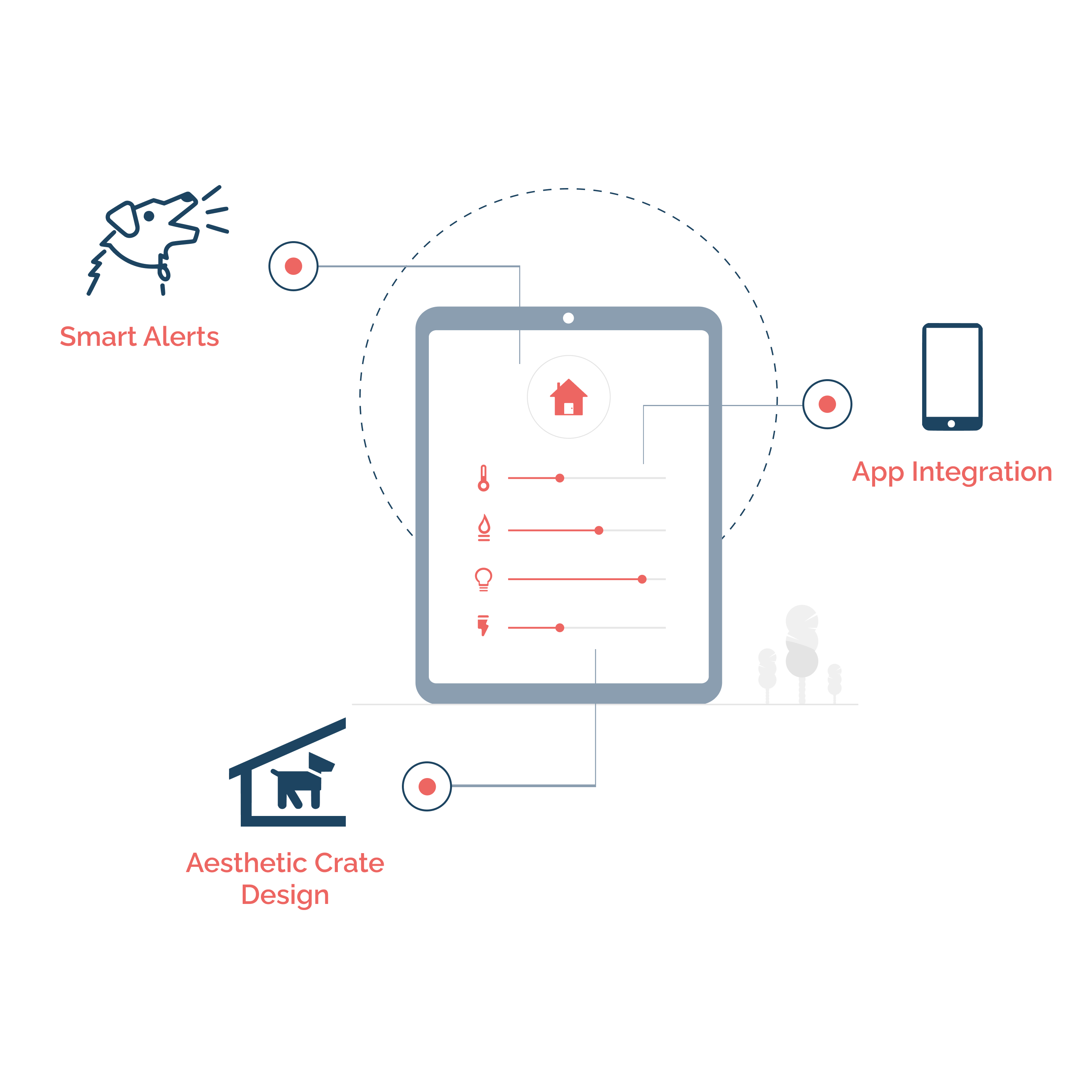 What's the Problem?
There is little choice for pet owners looking to purchase a safe dog crate that fits into the home's aesthetic. Almost all dog crates today are traditional wire cages or plastic boxes used for transporting the pet. These crates are impractical, look ugly, and, in some cases - unsafe.
Kind Kennels is a startup company with a vision to combine a visually appealing smart crate with a remote camera view into the crate. The startup needs support in designing an AI-powered dog tracking mobile app that will work with the smart crate to help dog owners feel more comfortable leaving their dogs at home, while ensuring physical and emotional comfort for their pets.
How might we help dog owners feel at ease leaving their dog(s) at home alone?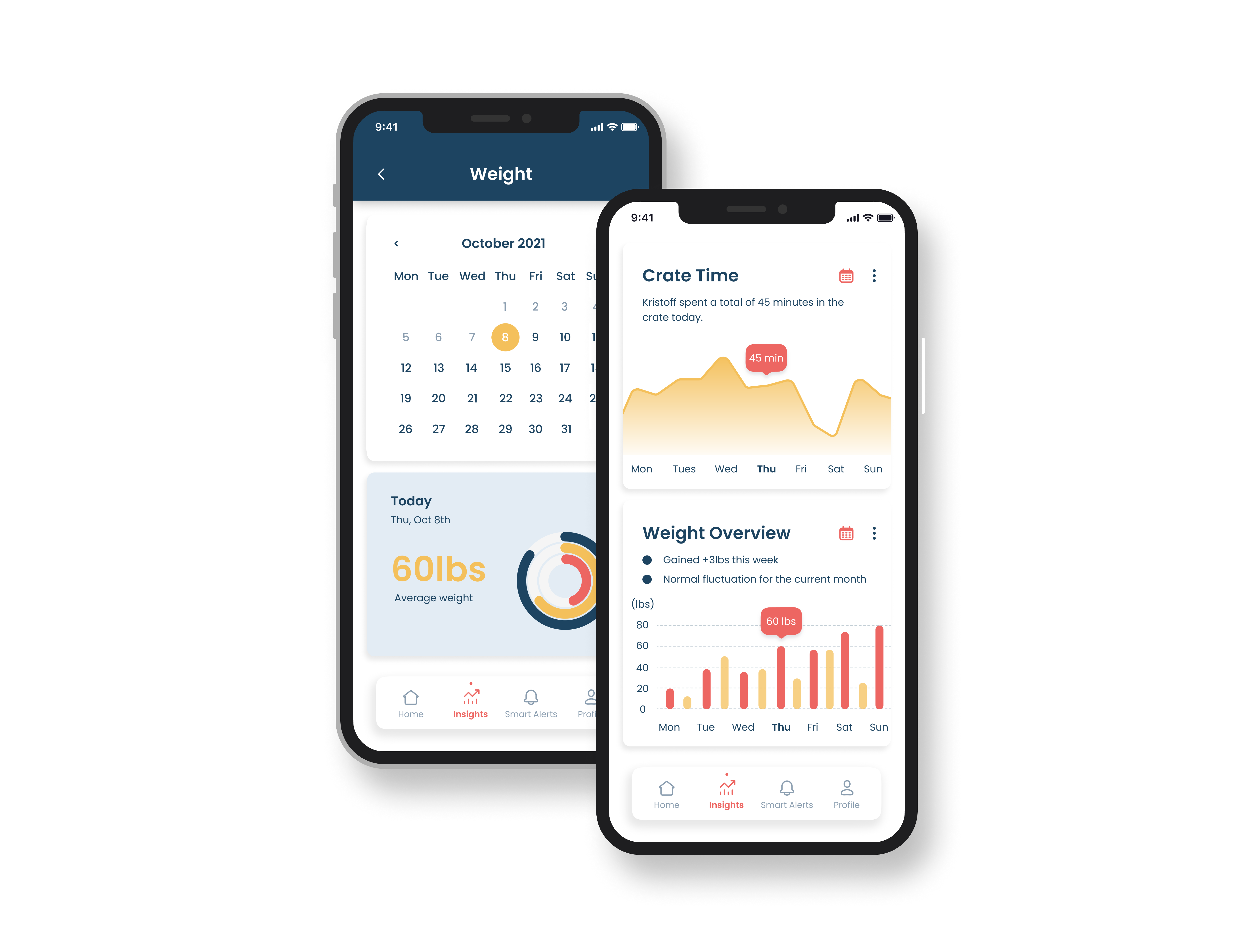 Potential Solutions & Goals
Kind Kennels aims to provide a well-designed dog crate with built-in Artificial Intelligence to give dogs a safe home. The goal of this project was to design a working prototype with research findings to identify and solve the problem space.
1. Live View
Open a live video/audio feed and monitor your pet from anywhere.
2. Gain Insights
See an overview of your dog's health stats and share with your veterinarian.
3. Smart Alerts
Receive real-time alerts for dog-related activities and home emergencies.
4. Cloud Recording
Automatic recording of important events so you can playback or share videos or audio clips of your pet.
I was one of two UX/UI designers collaborating on a short term design project for Kind Kennels. As part of the requirement, I had to contribute a total of 40 working hours (about 4 weeks) towards my project with defined deliverables. After our first kick-off call with the CEO, my partner and I defined our scope and timeline to make sure we stay on track and divide the work accordingly.


Discover & Identify the Problem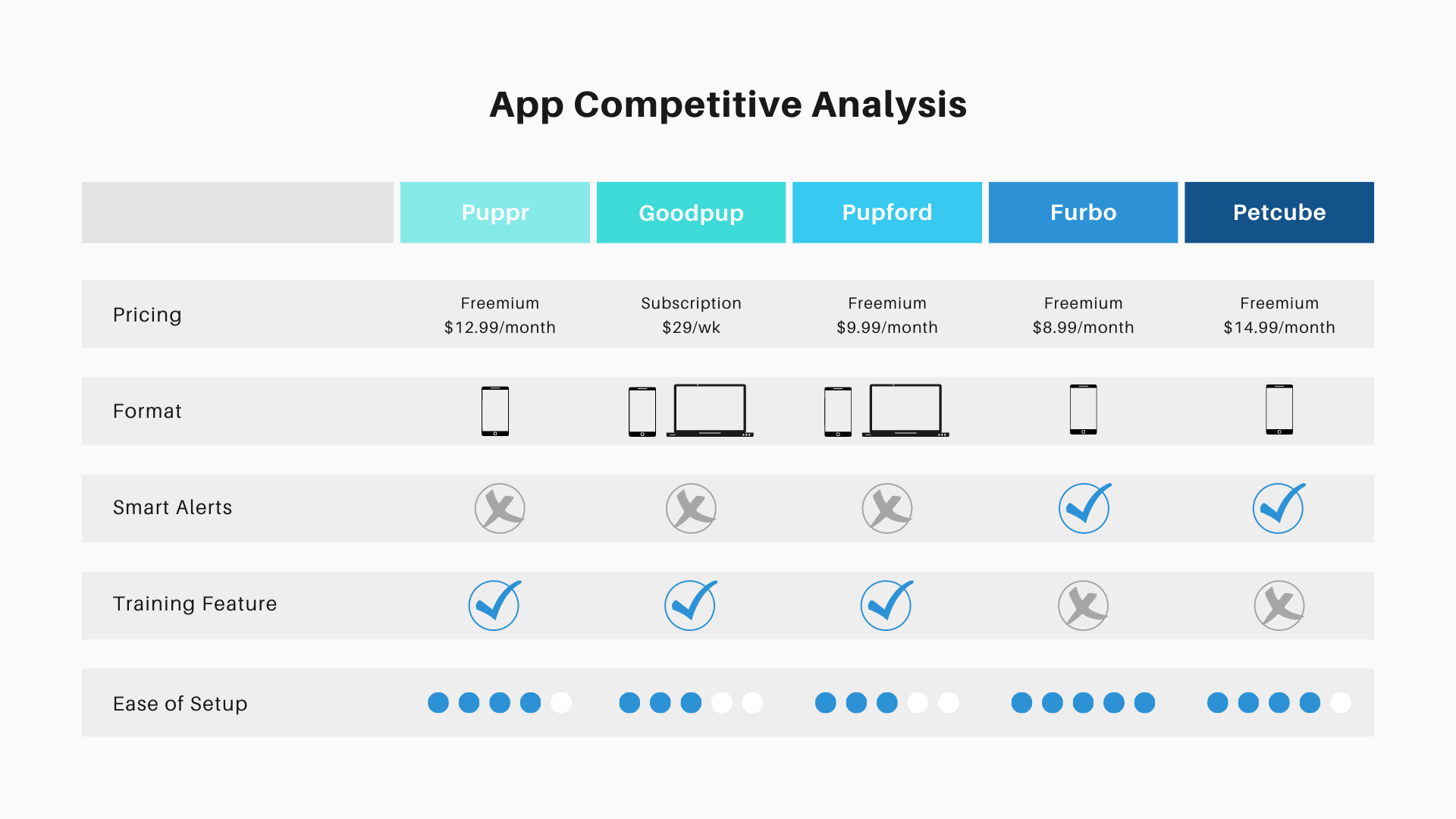 Competitor Analysis
Kind Kennels doesn't have any current direct competitors, so I researched and analyzed five indirect competitors to understand the current market. I focused on each company's product features and pricing models to compare their strengths and weaknesses. This gives me an idea of the market gap and opportunities for the product to succeed.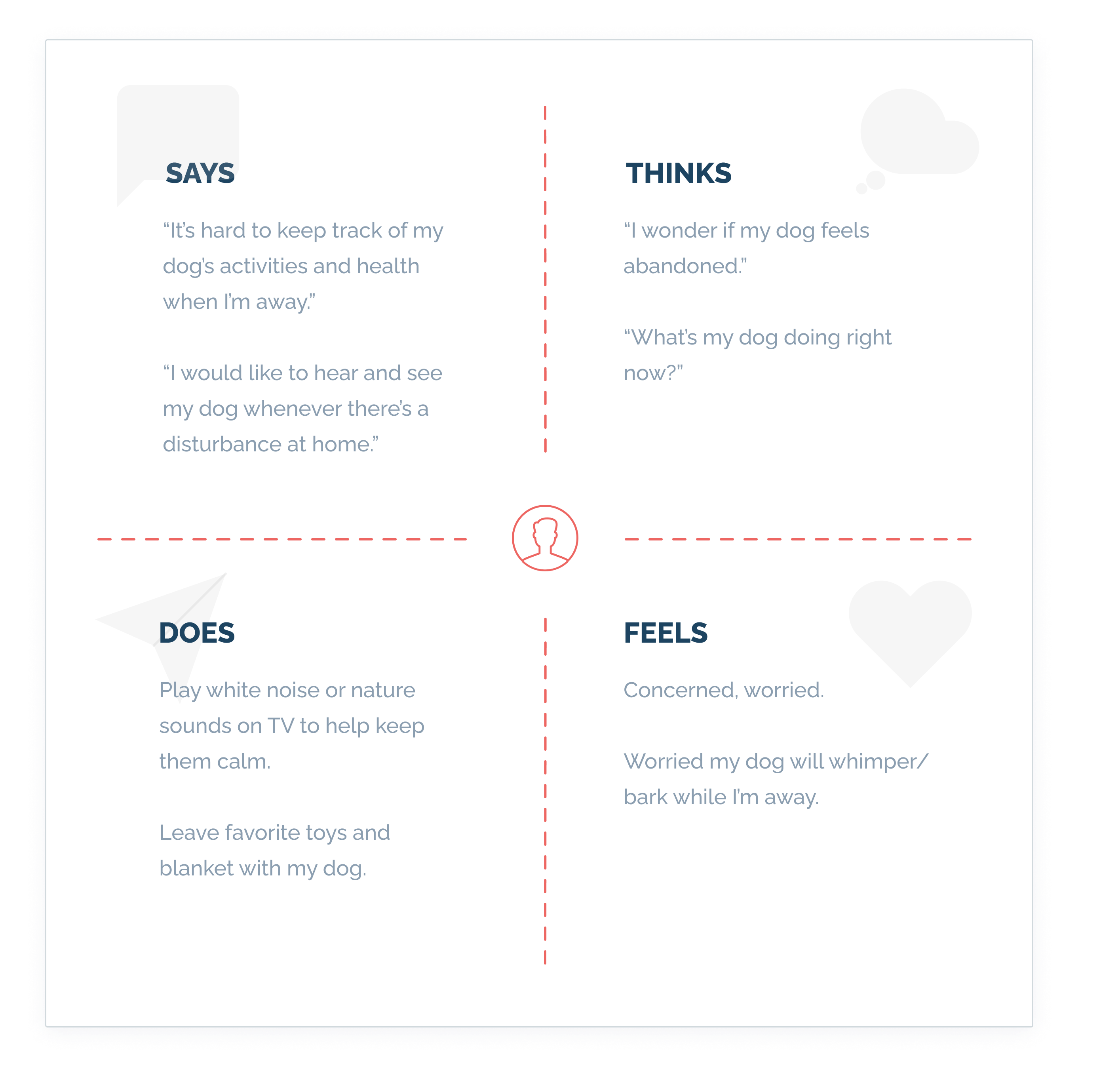 Interviews
I interviewed 11 users, pet owners, who have had experience using dog crates for training. Each interview was conducted remotely through video call or in-person, and lasted about 30 minutes. Here are my main findings: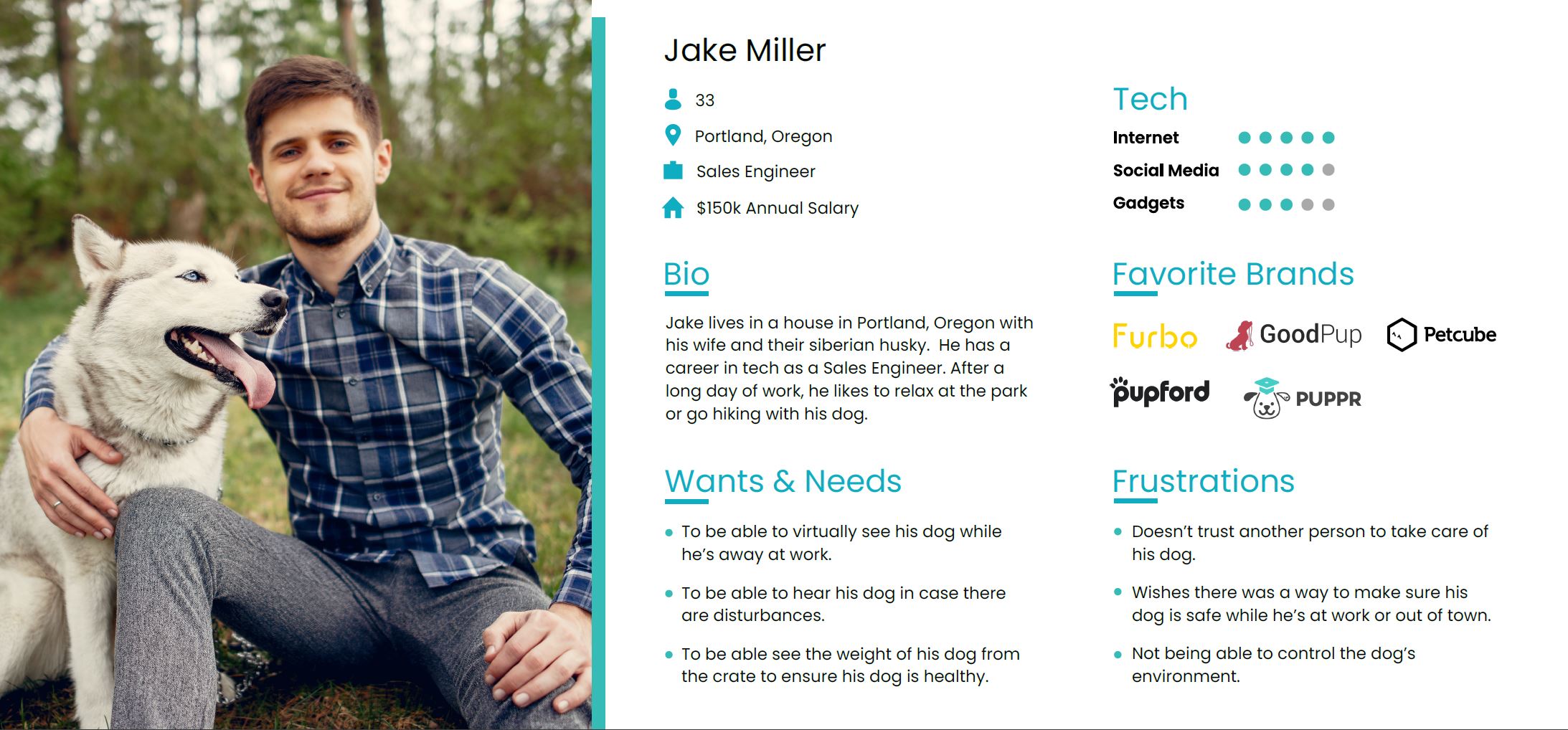 Personas
I illustrated the behavioral traits identified in my empathy map to a user persona. The goal here is to maintain a connection with the product user throughout the development process.
Considering Jake's pain points and goals, I focused on creating a system for him to view his dog's activities and be alerted of emergencies while he's away at work.
User Journey
I mapped out the users' steps to help tell the story of their experience with the brand from original engagement into a potential long-term relationship. This lays out pain points at different stages of the user and reveals opportunities for improvement.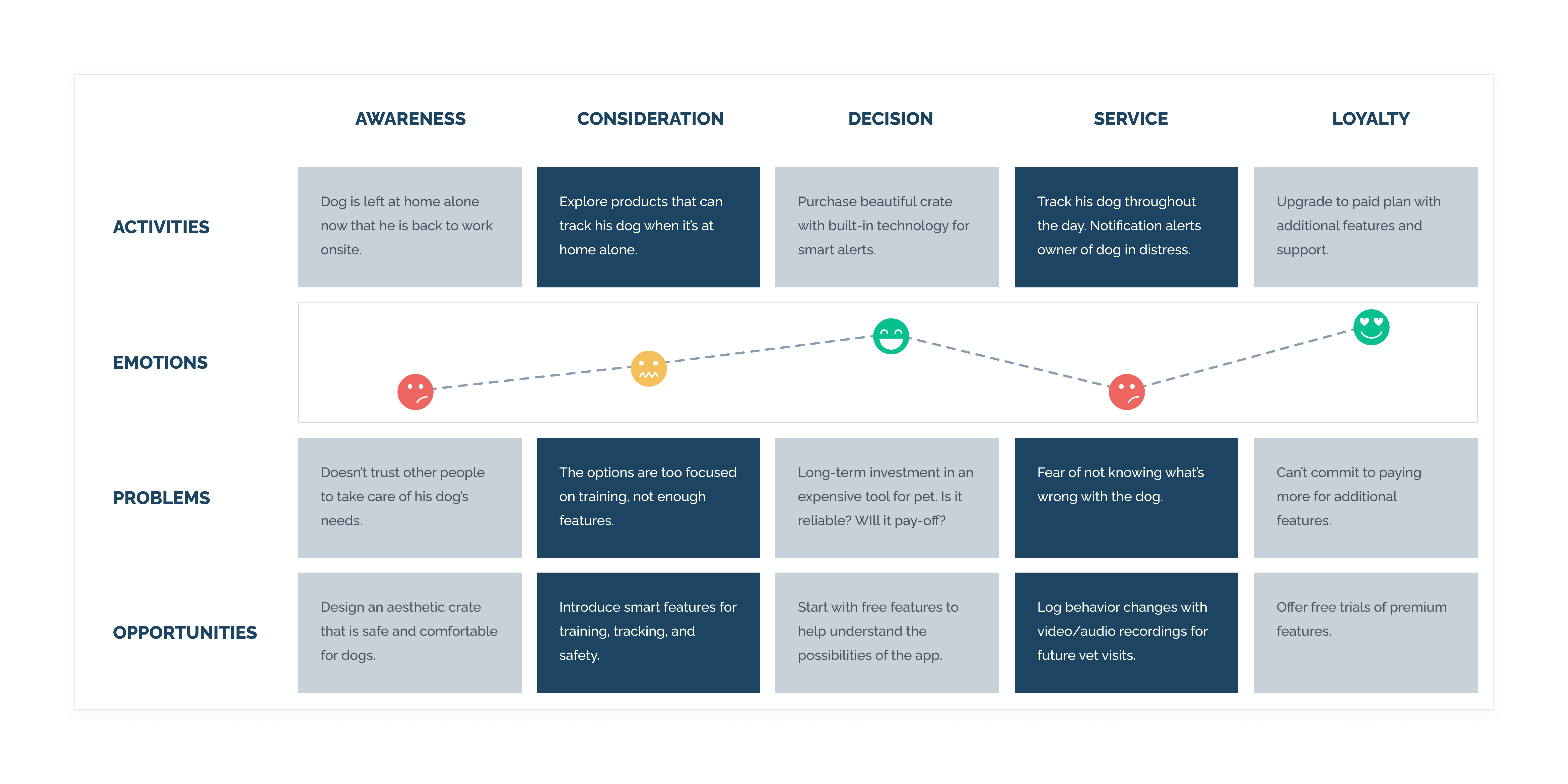 Organize Concepts into Designs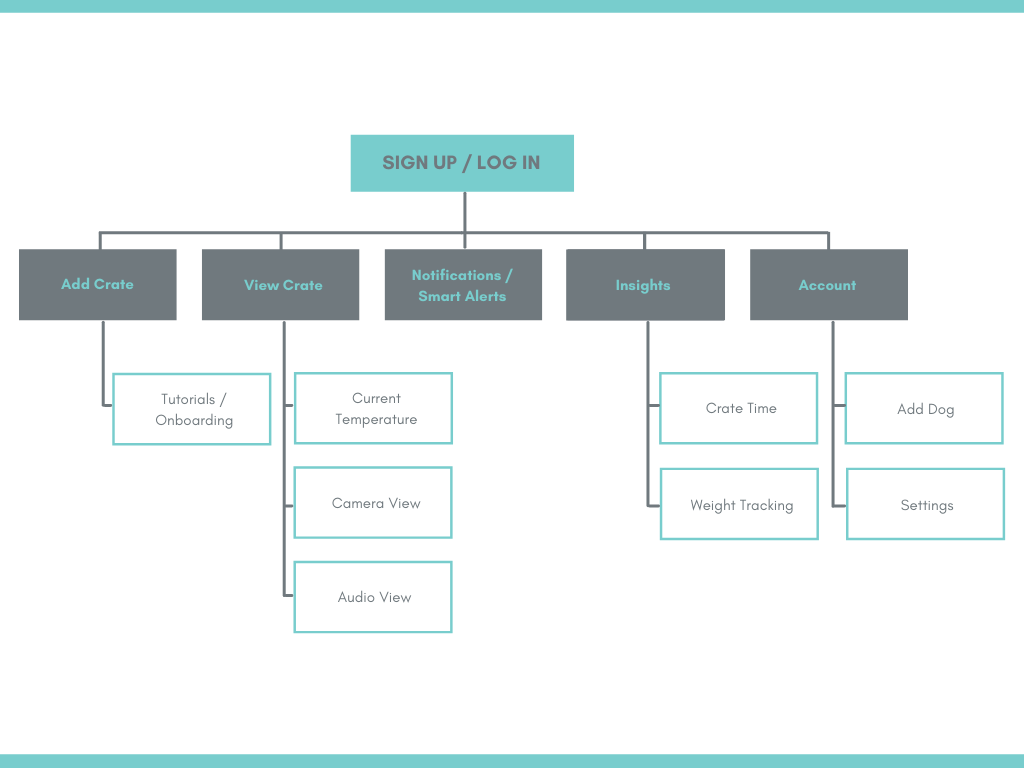 Sitemap
A rough sitemap was provided by the CEO, giving us an idea of top-level functionalities that need to be incorporated in the mobile app. We sorted through the main features and functionalities to complete the sitemap, keeping track of all the screens we needed to design.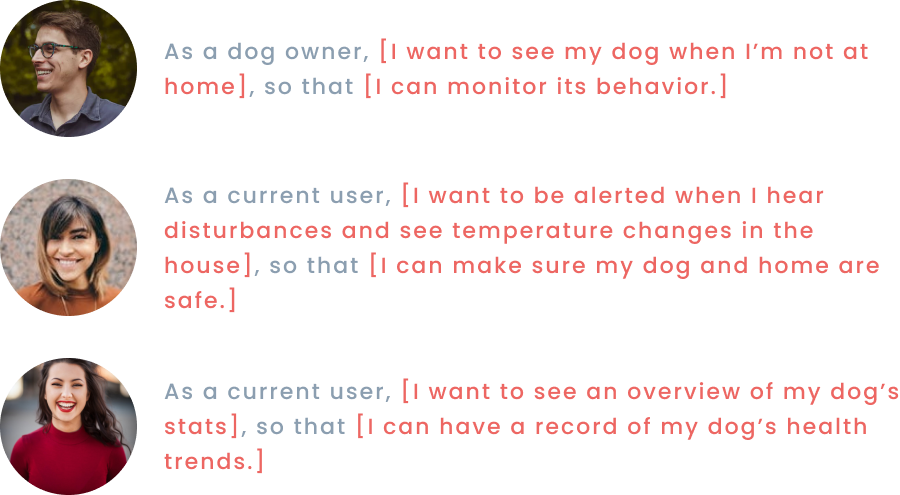 User Stories & Flows
To align the company's objectives with the persona, we crafted different user stories to clarify the customer's functional needs. After a design meeting with the company's CEO, we modified the user stories and flows to establish a solid information architecture before moving into the design phase.
One of the goals is to implement a recurring subscription model; however, we chose to flesh out critical features that users need. This helps UX designers and stakeholders understand which features are valuable before distinguishing premium features.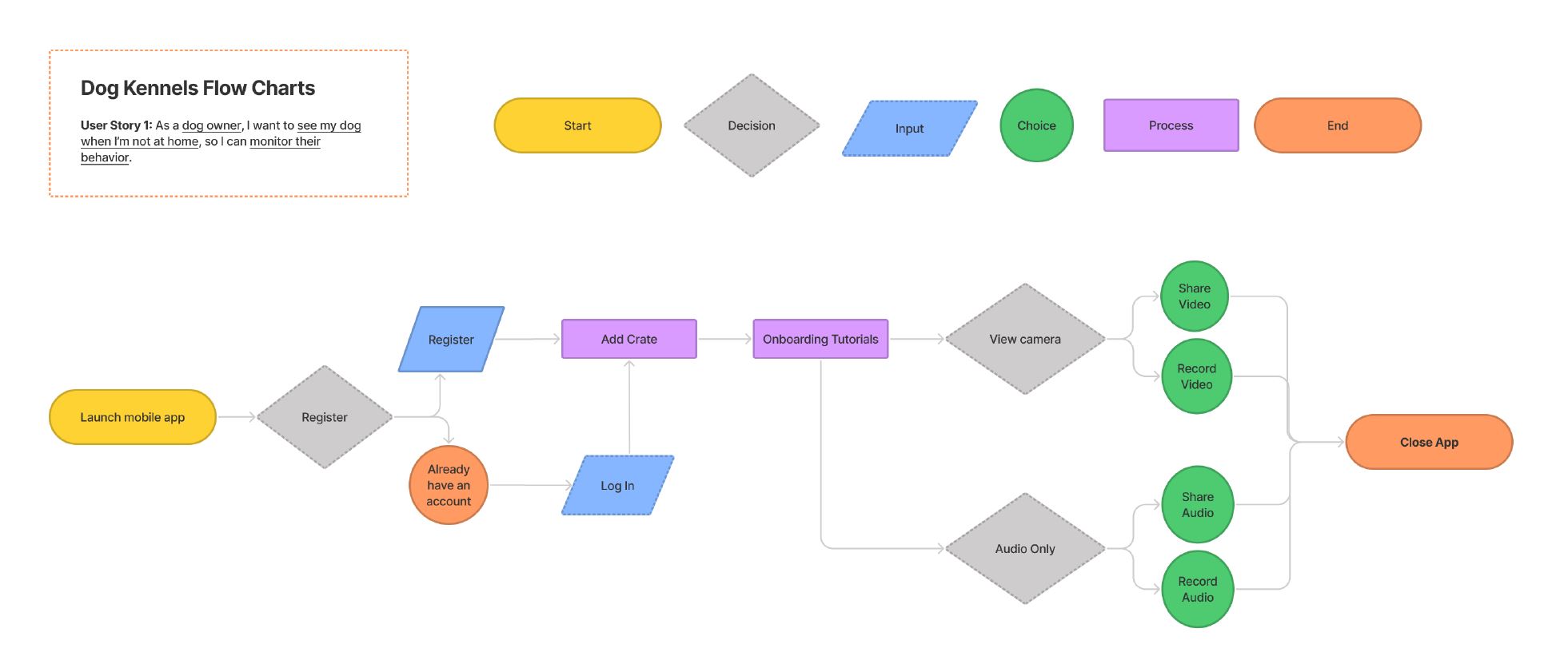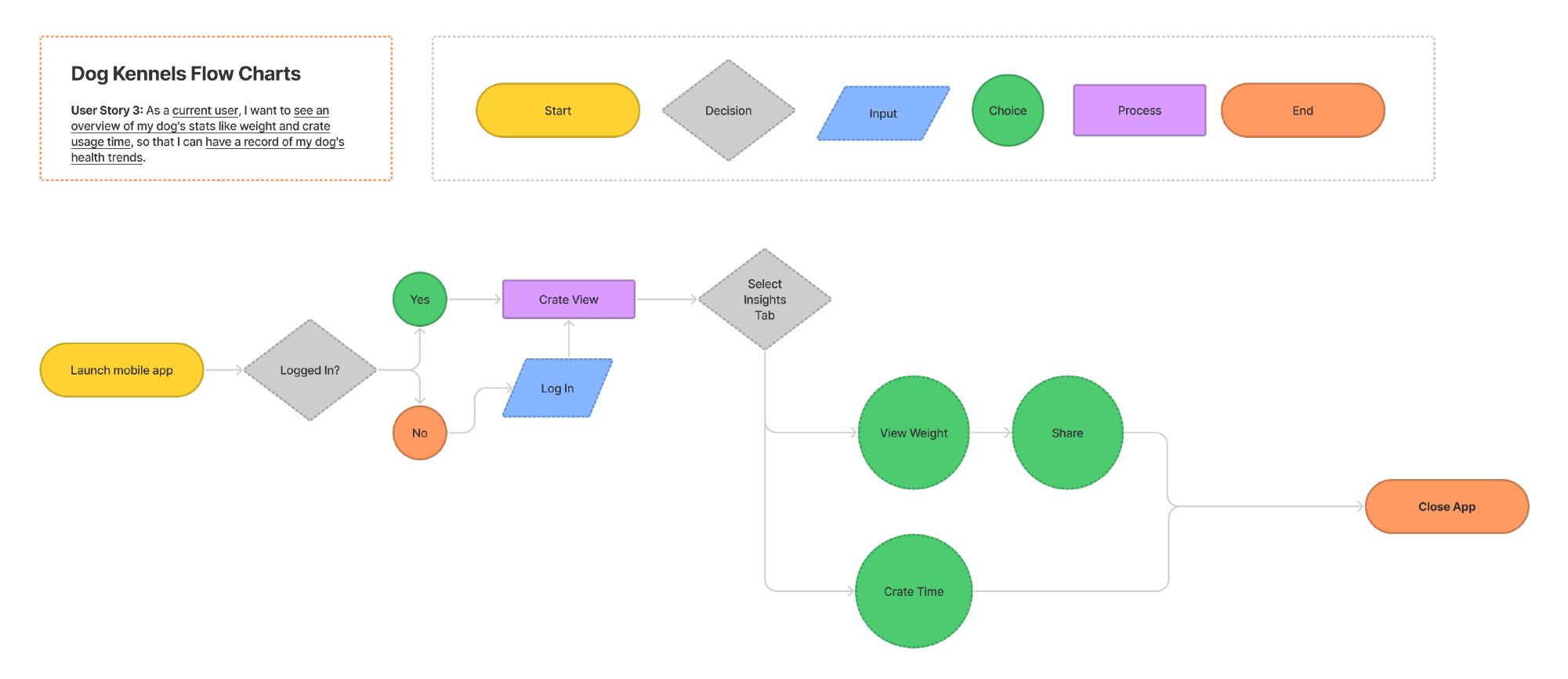 Mood Boards
To explore possible branding and styling of the product, I designed two out of four mood boards as a medium of communication for visual design. These boards sparked an initial conversation with the CEO regarding color palettes, fonts, language, emotions, and the overall feel of the product.
The intent is to create a foundation to further develop a style guide and brand platform in the future.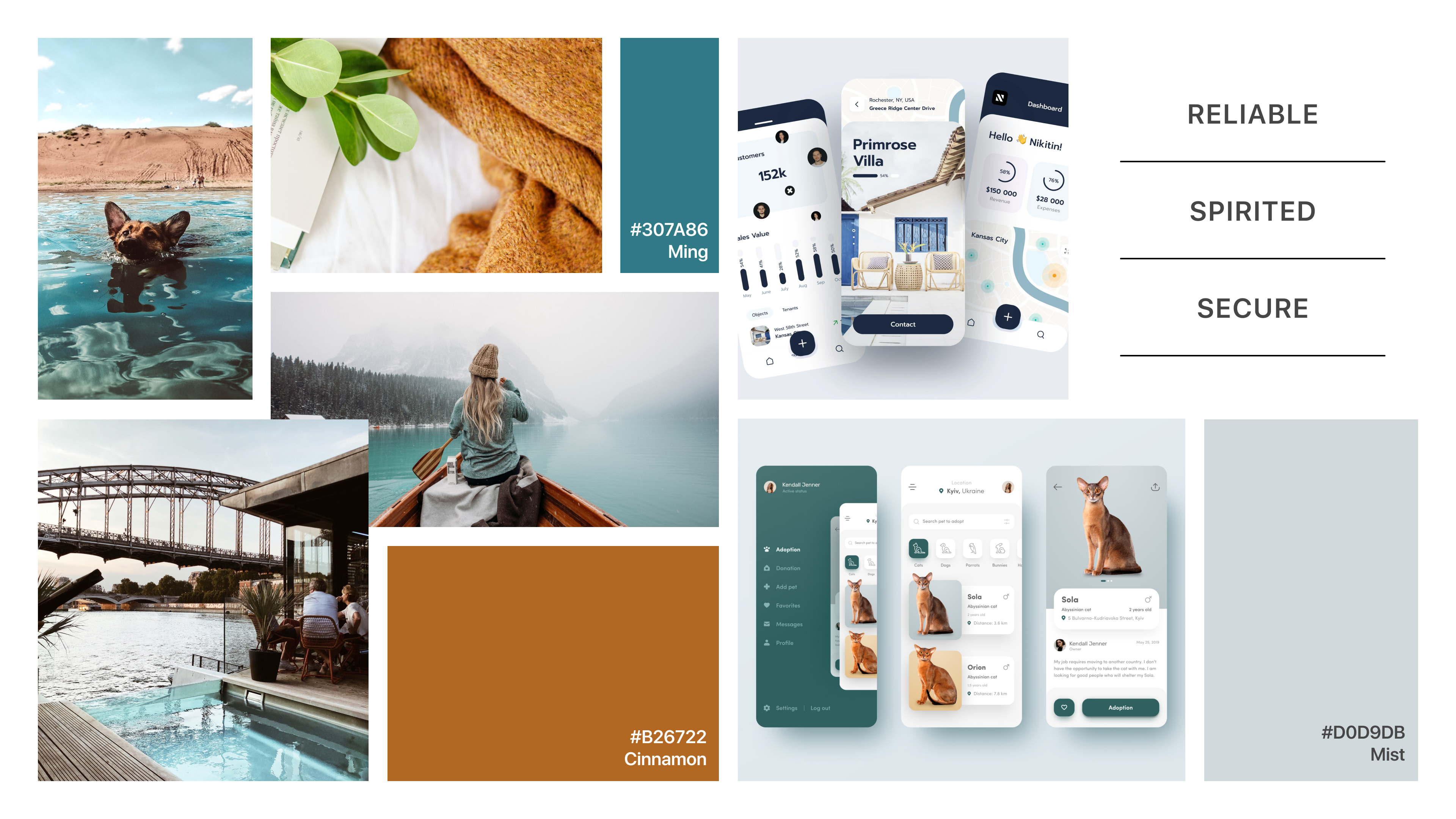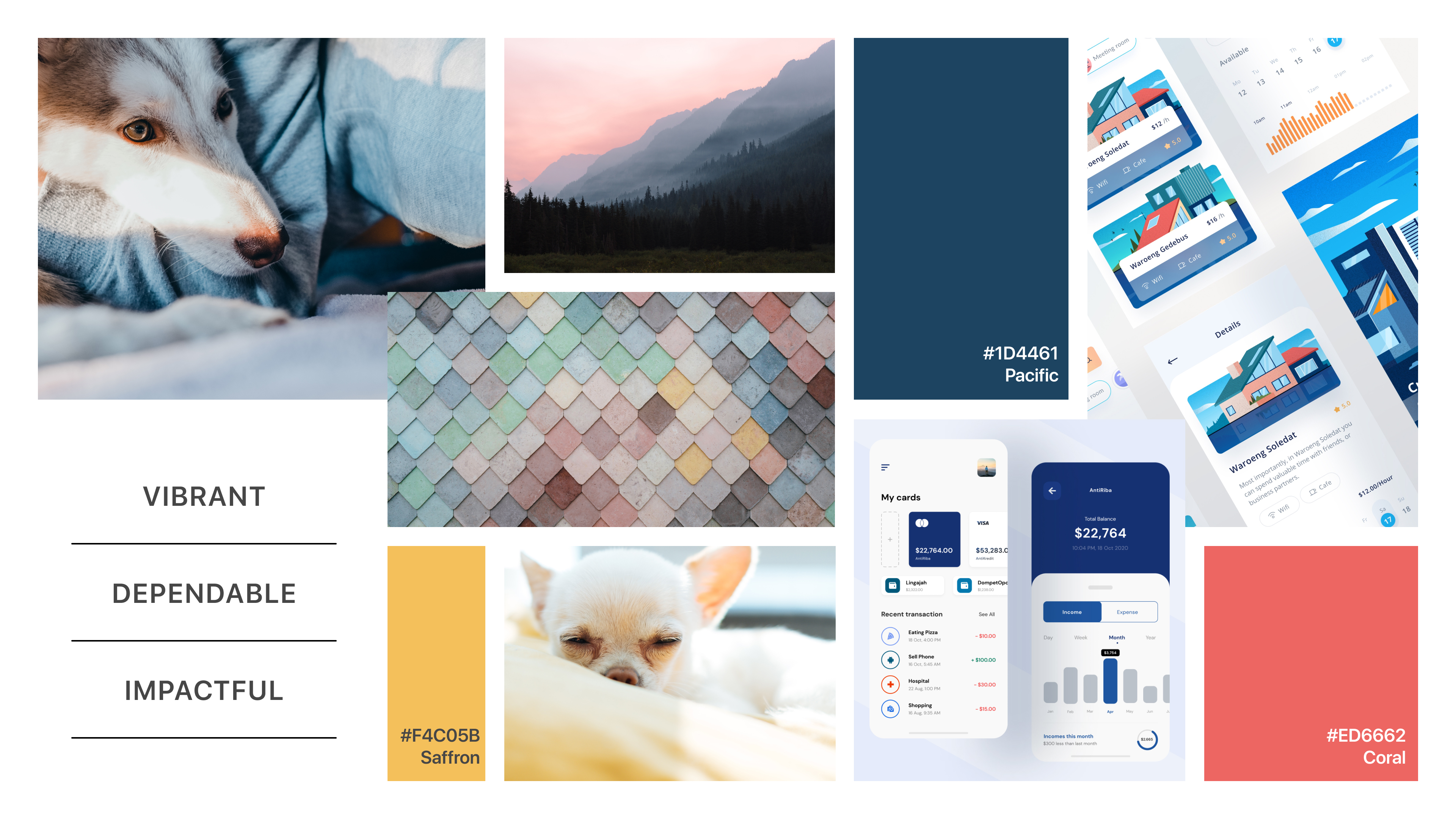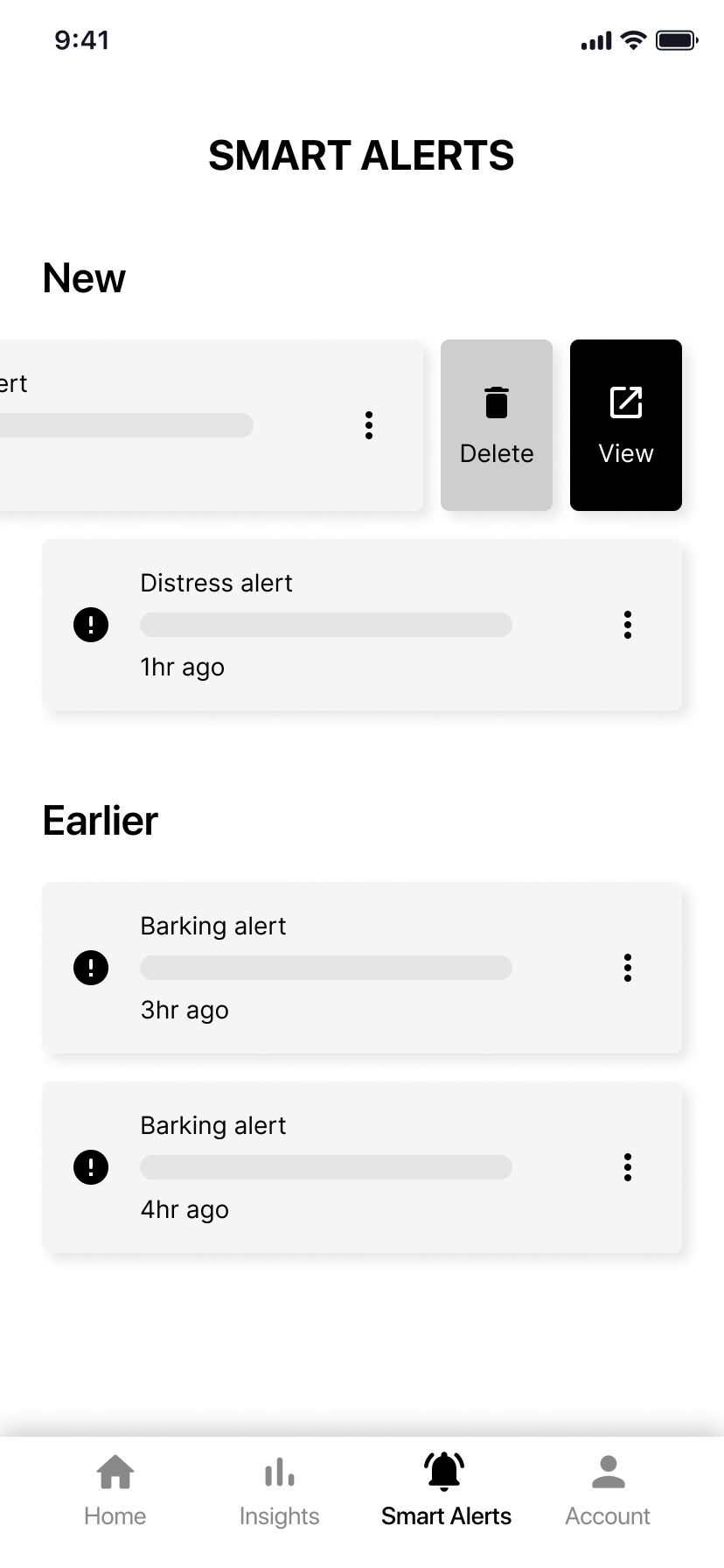 Wireframes
Based on the information architecture above, we went straight into wireframes, which will provide better quality usability testing with our time constraint. With three different user flows, my partner and I decided to take ownership of different flows. I was responsible for designing wireframes for User Story 2 (Smart Alerts), account/settings, setup and onboarding flows.
Design decisions were made during a stakeholder meeting with the company's CEO to ensure the wireframes align with project goals, while capturing the minimalist design aesthetics.
Feedback #1
Swipe action to view more smart alert functions (ex. view video/audio, delete, etc.)
Feedback #2
Add ability to change the threshold of smart alerts (ex. How long will the dog bark before sending an alert?)​​​​​​​
Feedback #3
Implement an easier crate setup process.
Feedback #4
You can write here as much as Needs better design continuity in the top navigation.
Interactive Prototype
I collaborated on creating a clickable prototype in Figma for testing. I had the opportunity to use a new app, Figma Mirror, which helps me view how the screens would look on a mobile phone. The downside is that your mobile phone must have the same screen size as your design, otherwise, some elements will be cut-off.
**This is the final prototype hand-off.
Validate Solution With Actual Users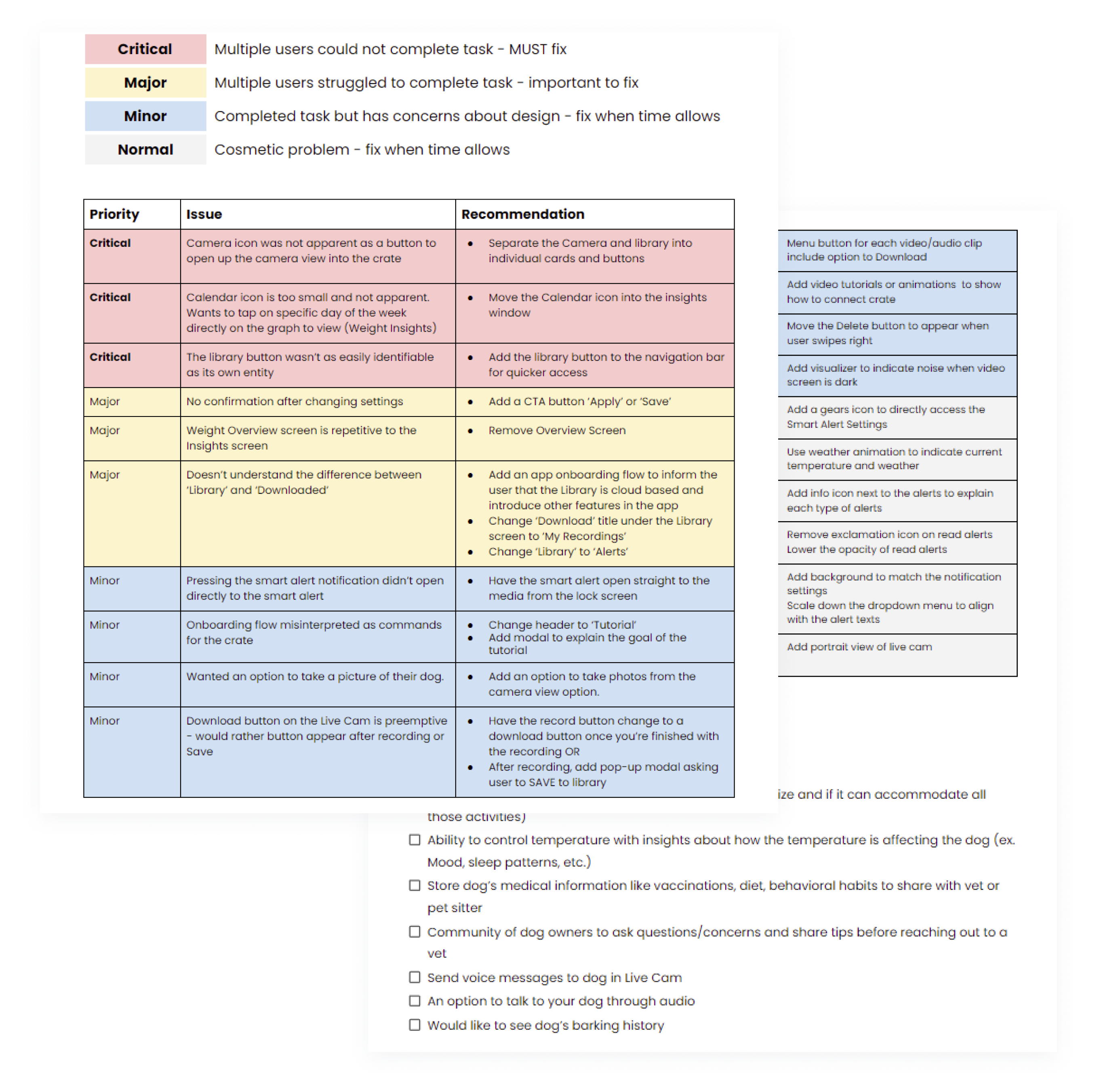 Usability Test & Redesign Recommendations
Using the mid-fidelity prototype, I conducted a total of ten usability tests. The primary objectives were to analyze the user's ability to navigate through the app and discover any usability issues.
As our final deliverable, I compiled a usability test report and identified issues by priority. With some extra time left near the end of our project with Kind Kennels, we included redesign recommendations for future iterations.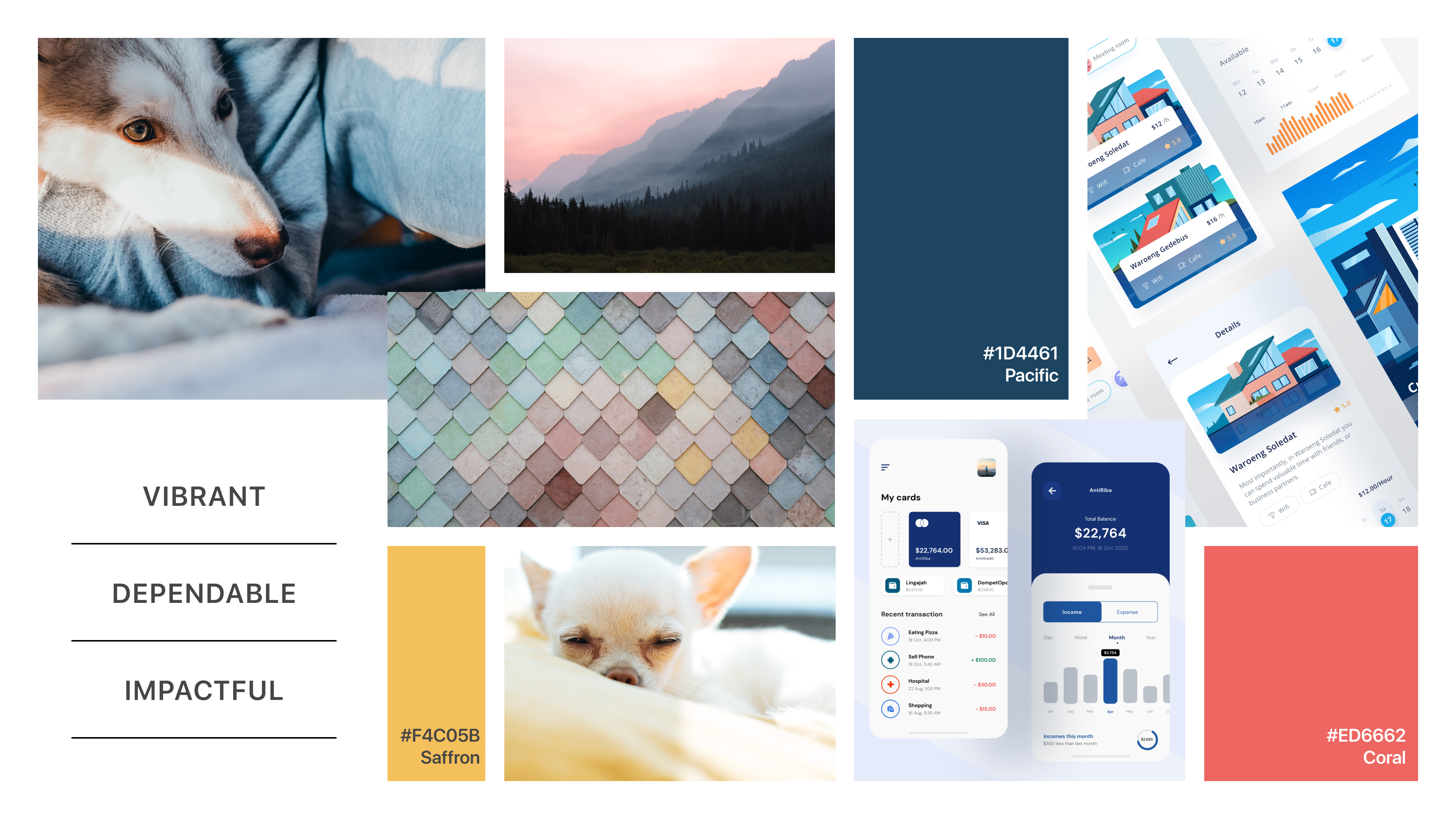 Wait! It's not the end.
Even though my collaboration with Kind Kennels has ended, I decided to create my own interpretation of this mobile app in high-fidelity.
I chose mood board #2 theme to bring this mobile design to life. I believe this theme exemplifies Kind Kennels' vision to create a fun, yet dependable brand for dog owners to share with their dogs. I also used this opportunity to incorporate changes from the usability test results.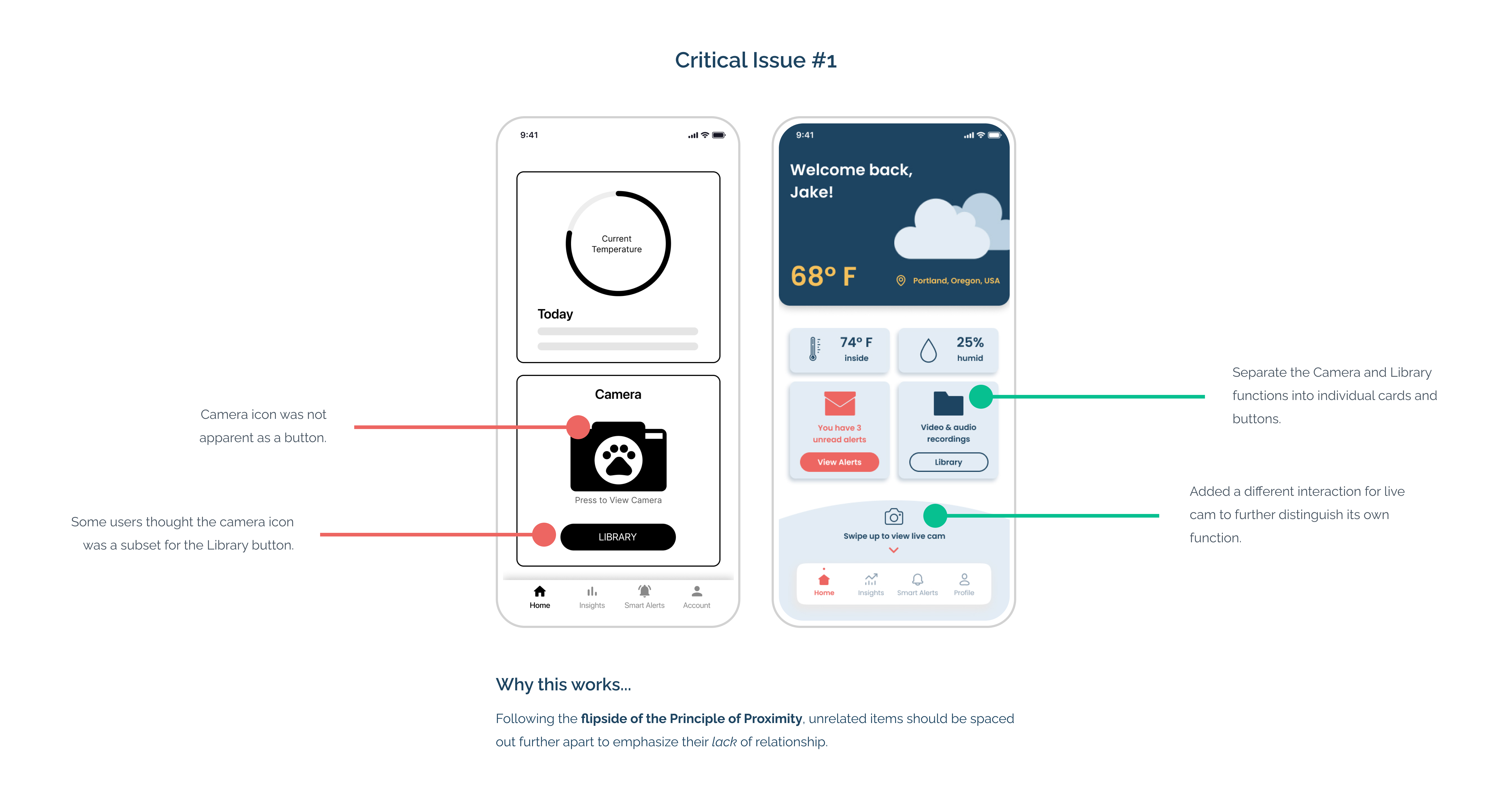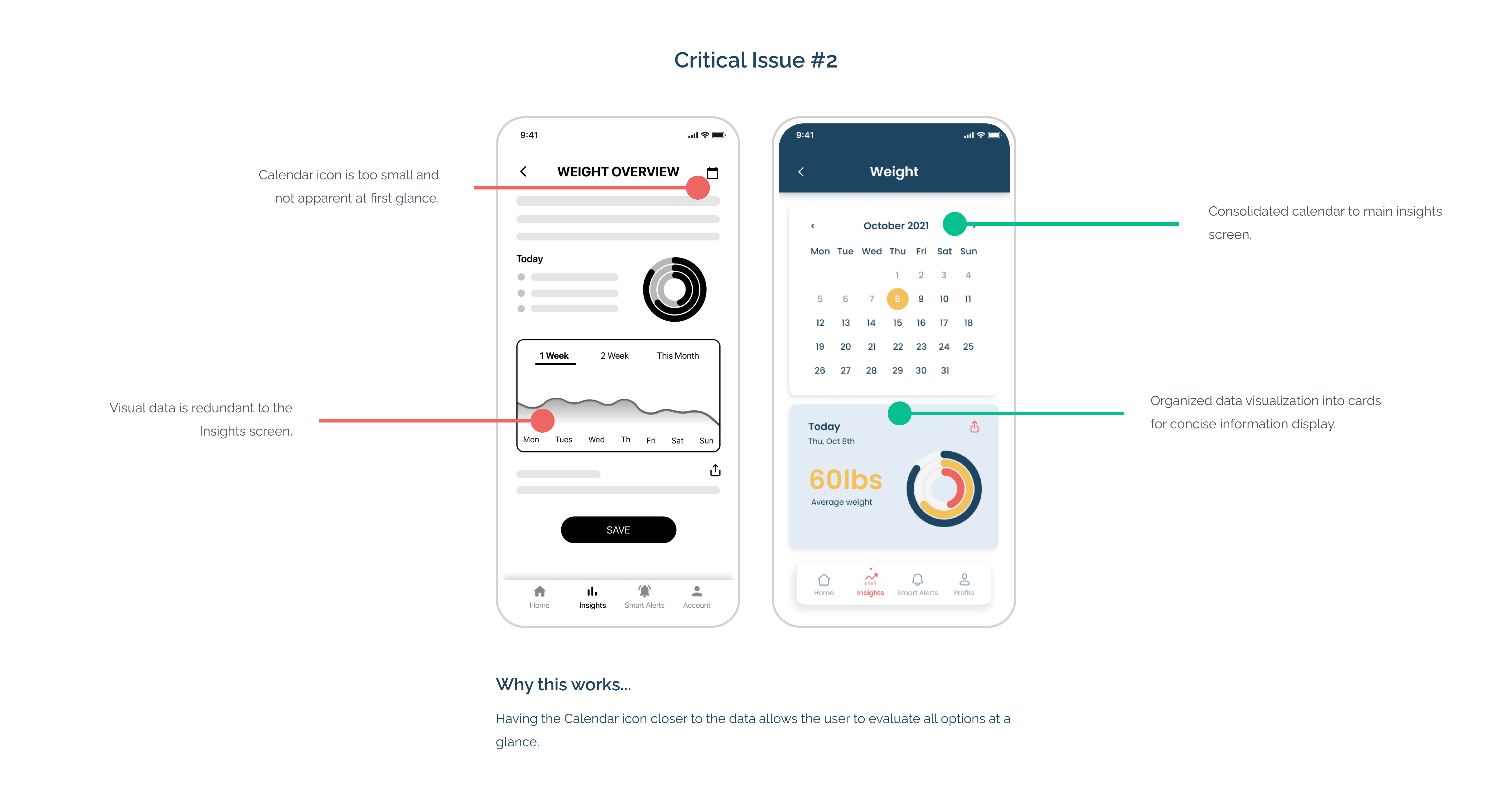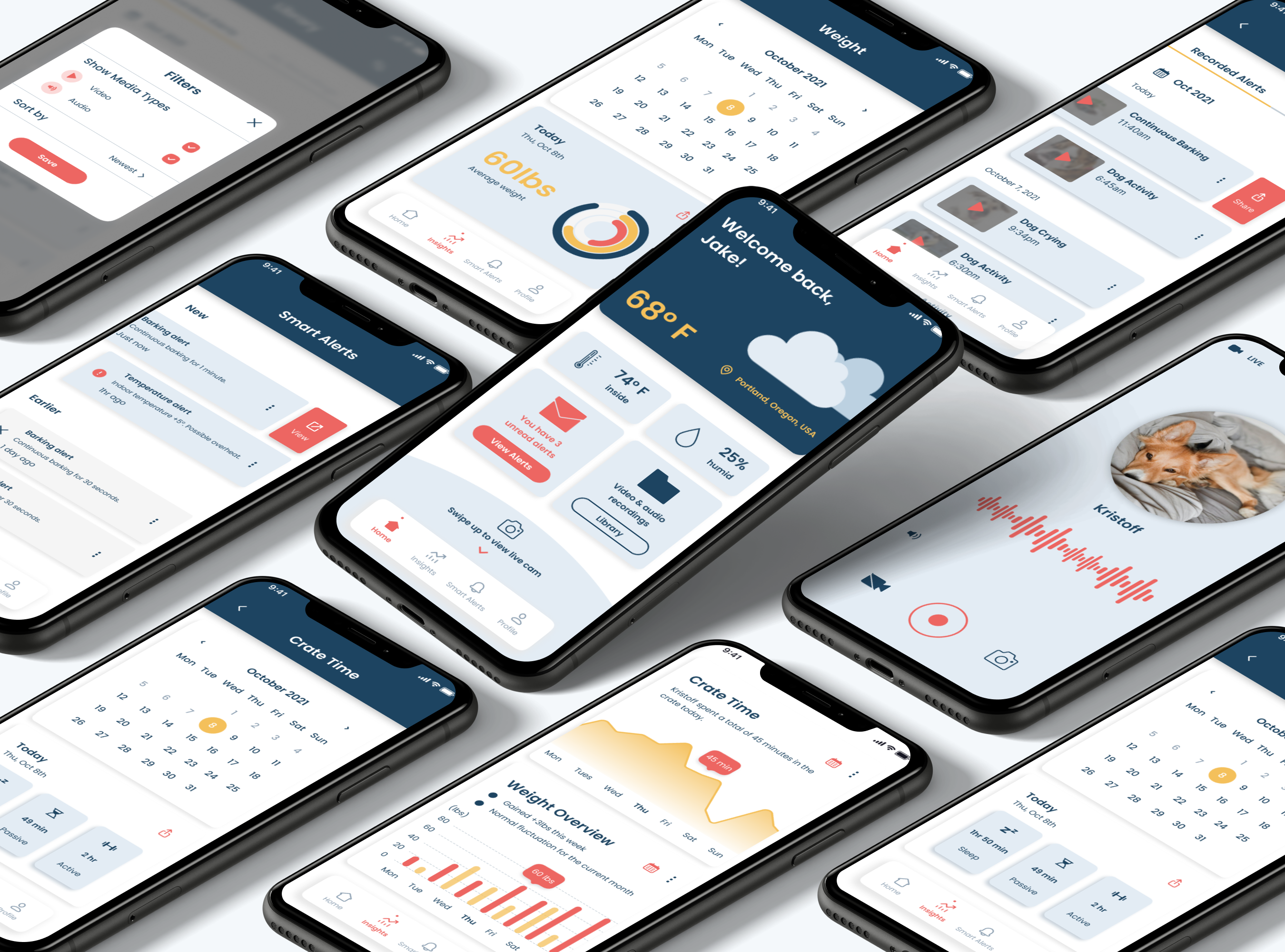 Collaborating with the founder and a design team for a startup business presented its own set of challenges. There are many variables, such as time difference and communication factors that are outside of my control.
Working within those constraints has made me appreciate our weekly design meetings. We had to be concise with the topics we needed to discuss with the product owner, but still have the flexibility to go off-topic when necessary. A fun team inspires creativity and involvement.
What's Next For Kind Kennels?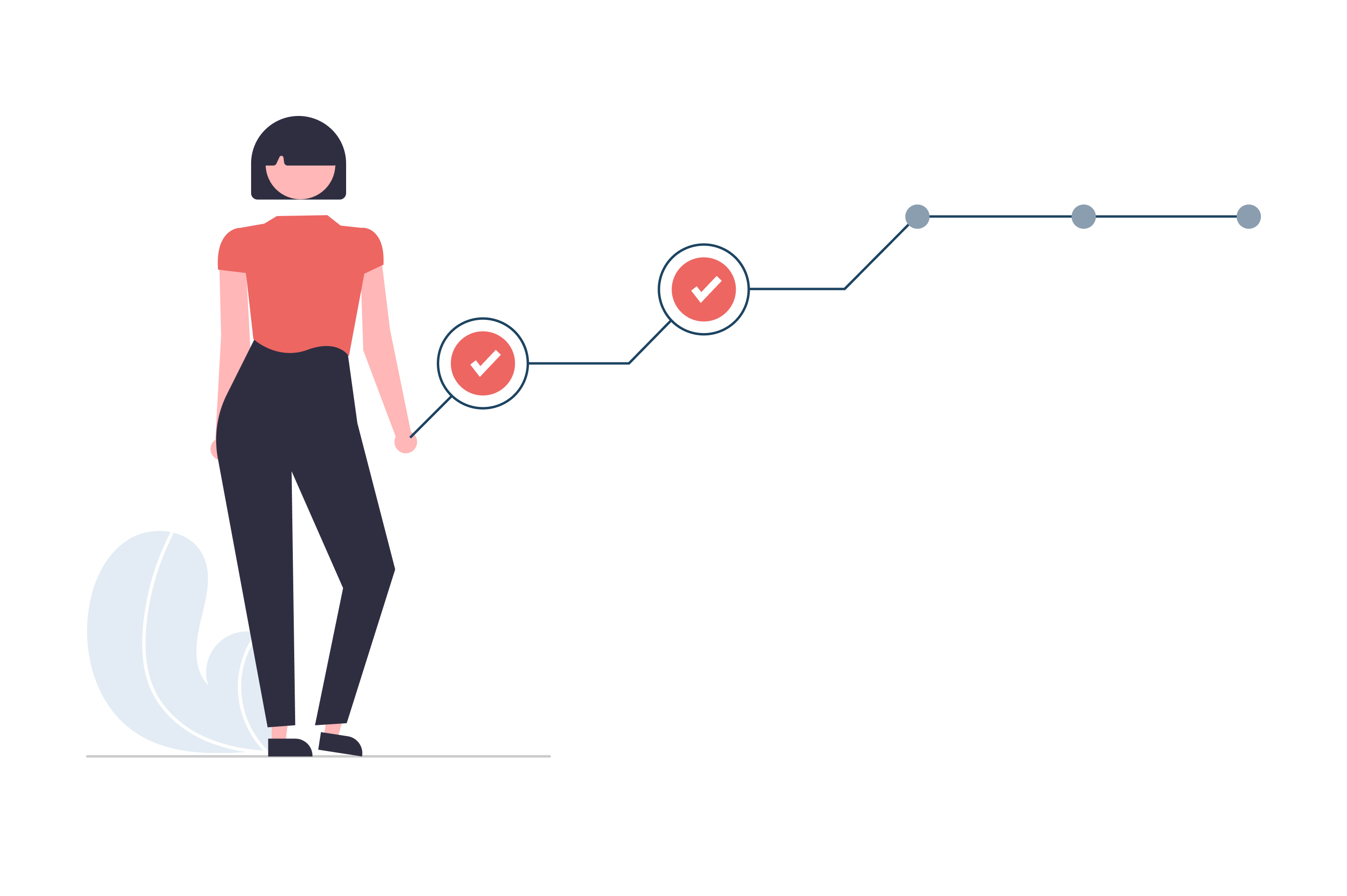 I've taken the initiative to incorporate feedback from my low-fidelity tests and made design changes in high fidelity. My next step would be to conduct another round of usability testing to validate those changes.
Because of the project scope and timeline, the product team sidestepped the original intent to integrate a monthly subscription model for premium features. I would like to conduct another set of user interviews to understand which features have monetary value to customers. Insights from user interviews will help the product team determine premium features for the app and help stakeholders make a decision on the pricing model.